Vampire sex dolls – Do you dare getting a vampire blowjob?
Vampires are often portrayed like very sexy, dark and mysterious creatures. It's no wonder that so many men and women feel sexually attracted to them, well now it the time to join the dark side and get your self a vampire sex doll and enjoy that unhuman sexual fantasy.
There are a several vampire styles and I've tried to include them all in the list of the best vampire sex dolls below.
I know that a lot of it comes down to your own preferences of style and looks so the lift below is more of a showcase of different high-quality vampire sex dolls.
Best vampire sex dolls 2021
#1

Sylvie

Sylvie is a young sexy looking vampire that's ready to take you to your sexual fantasy land. She is made by YL Doll and is made of high-quality TPE and she has a flexible metal skeleton so you can manipulate into different sex positions.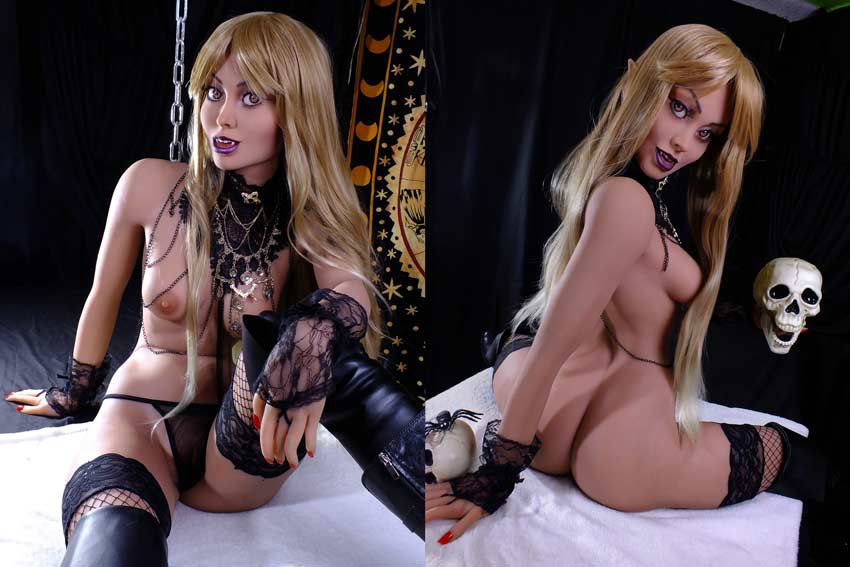 At 168 cm (5ft 6") she is a life-size vampire sex doll with all the features you can dream of. Her breast size is B and you can use all her 3 holes with different depth and texture.
I recommend Sylvie for your sexual vampire fantasy
#2 Pinar
Pinar is a bit of the opposite of Allura in terms of body type – She has beautiful curves, big breasts and a big nice vampire ass that you can slap around with.
Pinar is made by SinoDoll which is a very expensive sex doll brand, but with the high price comes high-quality. SinoDolls come with a handful of gifts including a free outfit, blanket, cleaning pot, comb, and 2 wigs.
Want a high-quality vampire sex doll? Get the Pinar vampire doll and enjoy her realistic feeling skin and looks.
>>>Save money with discount code: bjornlove
#3 Selene
Selene is a classic vampire girl with black hair and black make-up that looking very sexy with red lingerie.
She is definitely a good fit for most men that fantasize about having sex with a vampire.
Tiffany is made by YL Dolls just like Sylvie and she has all the same qualities and features.
#4 Rubi
Rubi is a short vampire sex doll with some amazing features including D size breasts and some awesome looking eyes that looks like they can penetrate your soul while you have sex with her.
If you can't handle a tall 180 cm (6ft) sex doll, then Melina might be the perfect choice for you. She is just 148 cm (4ft 10") and is therefore easier to move around and get into a got sex position.
Her body is made from TPE for that realistic feeling texture and you can use all her 3 holes.
#5 Emerson
Emerson has the most beautiful time glass figure with a very slim waist at just 60 cm (22"). Her breasts are gigantic compared to the rest of her slim body figure and I got to admit that she looks very sexy.
She is also a short vampire girl with the same height as Rubi above.
I would properly get Emerson if I was going to buy a sex doll vampire right now.
Get creative and customize your own vampire sex doll
There are countless ways to make you sex doll vampire extra personal and there are in fact so many options that you can be pretty sure that you are the only person in the world that have one exactly like yours.
And there are loads more features and options that you can add/remove.
You can even buy custom teeth/fangs for sex dolls if you buy one from sexdolls.com, they have just added this option and I'm very excited about it.
Paying and shipping
Most sex doll companies do not ship to Islamic countries, some SE Asian countries and Africa. You should always check with the seller if you have any doubts.
All the sellers that I recommend uses FedEx, DHL or UPS for shipping and they all have tracked shipping so you can follow you sex doll and see when it arrives.
In-stock sex dolls can take anywhere from 5-10 days to be delivered and custom dolls take 2-4 weeks.
Most companies offer some kind of payment plan where you pay a monthly fee, but you can of cause pay it all up front. You will never see any kind of sex doll information on your bank statement, they all use some other name when they bill you.
Avoid import tax
You can avoid import tax if you buy from a "local" store in your part of the world. So, buy from a USA based company if you live in USA or use a UK/EU based company if you live in Europe, and so on.
Now that you got your awesomely sexy new vampire girl
What should I know before having sex with my new doll?
Having sex with a human being is not that different from having sex with a sex doll vampire. There are just a few things that you need to know before you go wild!
Sex dolls are cold – Yes that can be quite the turndown when you put your penis into a cold hole… Not really what you expected. There are fortunately options available to pre heat you sex doll before sex. This is often a premium feature that costs extra money, but this is well worth the extra $150 from my personal experience.
Sex dolls are dry – Most women do excrete natural lubricant in their vagina which makes sex a lot easier and pleasurable. Make sure you use plenty of water-based lube or whatever lubrication the manufacture recommends.
You can read our full sex doll guide if you want to know more about this.
Cleaning your sex doll vampire is important
I've made a complete guide to cleaning your sex dolls here, this is very important and should not be neglected.
Each vampire sex doll comes with instructions including a cleaning guide that you should use and you're always welcome to come back to Kinkycow and contact us with your questions.
We're always here to help and educate.
Final thoughts about vampire sex dolls
Vampires have always been surrounded by sexual energy and showcased as sex hungry creatures. It's not hard to imagine having sex with a hot vampire for hours and hours.
Just imagine all their sexual experience they have when they turn 300 years old and still look young and hot.
You can always check out our other guide to fantasy sex dolls.
Go for it if you have a vampire fantasy!