Aneros Prostate Massager Guide
Aneros is the original prostate toy design that made prostate massage possible for a solo person.
Their products have won several adult awards for best product design and much more.
Aneros has 10 different prostate massagers ranging from beginner to expert and I'm sure we'll find one that fit you perfectly.
I'll walk you through the different Aneros toys so you'll get the best Aneros for your experience level and body type.
A perfect fitting prostate massager can be the difference between reaching a prostate orgasm or not, so it's super important that you get the right style of Aneros toy.
Let's start off with the best options for beginners.
Aneros prostate toys for beginners
I just want to make it clear that a "beginner" toy may fit you perfectly even if you're an experienced user. It's all about trying different things and finding that perfect massager for your anatomy and style.
The MGX Trident and MGX SYN Trident
The first and most beginner friendly product is called the MGX and it come in a classic Trident version and a new and improved SYN Trident version.
You'll quickly notice the material difference between the two models if you have them next to each other. The New MGX Syn Trident is made of really smooth silicone which is ideal for sex toys and it makes it easy to get in.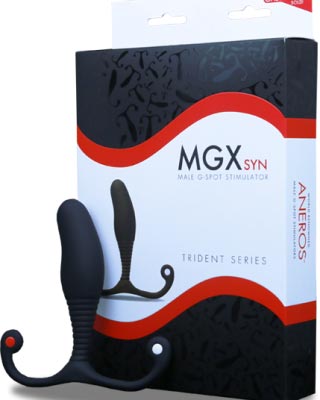 This is what you get:
Easy to insert due to thin design
Moderately focused stimulation
High-quality silicone
MGX conclusion
This is a great beginner product that most users will find easy to use and manageable to get in without too much trouble.
The SYN version offers more stimulation for a little extra cost that I would personally recommend.
I recommend the MGX SYN if you're after a great beginner prostate toy with gentle stimulation.
The Helix Trident and Helix SYN Trident
Your second best Aneros beginner prostate massager is the Helix and the Helix SYN. The SYN version is made of high-quality silicone just like the MGX SYN. There is a $15 difference between the classic versions and the SYN versions but that's well worth the extra money in my mind.
There are 2 main differences between the MGX and the Helix and that's that the Helix is thicker and it's at an angel which gives you a more powerful sensation.  
This is what you get:
A thicker beginner massager
Stronger stimulation
Very responsive (more focused stimulation)
Helix conclusion
The Aneros Helix prostate massagers are a very versatile product that suits both beginners and more experienced user.
It's one of the most popular choices and it's not hard to see why and feel why.
I recommend the Helix if you want strong prostate stimulation without dealing with uncomfortably large prostate massagers.
Aneros Intermediate prostate massagers
The Progasm and Progasm Jr.
You're looking at two different versions which looks identical, but one if shorter than the other and has a more compact design.
The size of the Progasm makes it a bit more challenging to use and it's not advised as a first time buy.
But if you love the shape and being filled out than maybe consider the Junior version which offers the same features in a shorter version.
This is what you get:
Thick massager for intermediate users
Strong stimulation
Two size options
Progasm conclusion
A great option if you want to take your prostate massaging to the next level and try something a bit thicker and get filled more.
You're going to love the strong stimulation that the Progasm offers and the fact that you can get a more compact version makes it a great buy for second time prostate massager buyers.
I recommend the Progasm if you're level up your prostate massager game and want to get filled.
The Maximus Trident
This is quite a large prostate massager as the name suggest and one that delivers a strong stimulation and will fill you up.
It's big size and narrow base makes it sit firmly in your butt with little change of slipping out.
The head of the Maximus Tridents is softly rounded and the improved perineum and kundalini points are going to massage the right spots while you go for that amazing P-orgasm.
This is what you get:
Large prostate massager
Sits firmly in place even when moving around
Strong stimulation
Maximus Trident conclusion
A great choice for you if you're an experienced prostate massager user who wish to feel a little more filled up during prostate massage sessions.
I wish they would upgrade it to the new silicone material, but this is what we're working with right now.
I recommend the Maximus Trident if you've used prostate toys before and ready for even more.
The Vice 2
The Vice 2 is the successor of Aneros' very first vibrating prostate massager "The Vice". The new and improved version has a lot of cool things going on, including dual vibrators and a remote control.
It's such a gamechanger to be able to control it with the remote control. The LELO Hugo has a similar design and it cost almost $250. So, the $150 that the Vice 2 costs seems a little better when you take that into account.
This is what you get:
High-quality prostate massager
Quite large
Dual vibrators
Remote controlled
Vice 2 conclusion
This is quite a thick massager and one that will take be hard to insert unless you're a little experienced. But it's not impossible with a little training, so if you're into vibrating prostate massagers then the Vice 2 is it!
You're are however going to pay a hefty price for it but you're also going to get a high-tech prostate massager that's going to massage your prostate in a whole new way.
I recommend the Vice 2 vibrating prostate massager if you want good quality from Aneros and automatic vibrations.
Aneros advanced prostate massagers
The Eupho and Eupho SYN Trident
Eupho and Eupho Syn are a special couple of prostate massagers since they are good for both complete newbies and advanced users who have tried it all.
The reason for that is its super slim design that makes it very easy to insert for newbies but at the same time offers a way more focused stimulation to a smaller area which requires more technique.
I would personally recommend the MGX SYN for beginners but the Eupho's design is even slimmer if you're worried about that.
This is what you get:
Super slim prostate massager
Available in 2 options
High-quality
Perfect for high experienced users
Aneros Eupho SYN Trident conclusion
You're able to massage a very tiny spot with the Eupho massager, but you're able to do it very precisely which gives a very strong stimulation.
Other massagers are built to massage a large area and simply hope to hit the right spot, which is perfect for beginners and less experienced users.
I recommend the Aneros Eupho SYN Trident if you got the experience and know where your own speciaæ spots are.
How should I use it?
There are several different ways to use an Aneros prostate massager, let's take a look at some of they way you can enjoy it.
Make sure you clean yourself properly before any anal play!
Solo play – This is fairly straight forward and the most common way to enjoy it if you're a first timer.
Lube up in and around your asshole and simple work the Aneros massager in. This might take some time if it's your first time but don't let it discourage you.
Move it around and get a feel for what feels nice and what don't and start massaging when you hit the right spot, you'll know it once you're there.
Simply continues until you get a prostate orgasm or stop when ever you don't feel like it anymore.
There is no guarantee for an orgasm the first few times, it does require a bit of training.
During sex – The Aneros massager toys are super nice to wear while you have sex and it adds a whole new level of pleasure to an already super pleasureful activity.
I would recommend that you give it a try solo a few times so you're move comfortable with how to get the Aneros in and sit in the right place. You don't want to ruin the mood with spending 10 minutes trying to get it in.
Daily routine – Why not spice your normal daily routines up a notch and wear your Aneros while you go shopping or while sitting watching a movie. The thinner designs (Eupho and MGX) are ideal for this type of usage.
But at the end of the day, it all up to you how you use it and there are countless ways to enjoy your Aneros products.
Aneros FAQ
Final thoughts about Aneros
Aneros offers so many different styles of prostate massagers and you're likely to find a perfect match for you.
Give the beginner friendly prostate massagers a try of it's your first time or why not try some of the more advanced products if you're a more experienced user.
I personally love the Aneros MGX SYN Trident which is nice and easy to insert and offers good stimulation.
You're always welcome to contact me if you have any questions about Aneros products or prostate massagers in general.