The Ultimate Fleshlight Quickshot Guide
The Fleshlight Quickshot is as the name suggest a quick and easy to use male masturbator.
It's super easy to clean due to its open-ended design with a vagina entrance on one end and a butt entrance on the other.
There are 4 different Fleshlight Quickshots that you can read all about below and find the one that will give you the most pleasure.
Fleshlight Quickshot reviews
Riley Reid Quickshot
The Riley Reid Quickshot has two different entrances which are molded after Riley Reid's pussy and butthole.
It's made of clear "super skin" so you and/or your partner can enjoy watching your penis thrust back and forth.
The inside has a lot of different textures to make your experience feel better.
Pros:
Entrance molded after Riley Reid
Both Vagina and butt
Clear "super skin" material
Cheap
Easy to clean
Cons:
No way to tighten the feeling
Should I get the Riley Reid Quickshot?
This is by far my favorite Quickshot product that has all the qualities of the newer models and still have the vagina and butt entrance of the old models.
It's unique texture also makes it more interesting to use and you get different sensation depending on which way you use it.
I recommend the Riley Reid Quickshot if you're after the best Quickshot with real looking orifices.
Quickshot Stamina Training Unit
This is the original short version of a Fleshlight before they where even called Quickshots. There are a few differences between this and the rest of the Quickshots.
The main thing is that it's not transparent, the "flesh" part is pink and the outer case is in golden plastic. You can also get the Stamina Training Unit in a special version with a mount and butt entrance.
Pros:
Mouth/butt option
Vagina/butt option
Cheap
Good quality
Cons:
Non-transparent
Porous material
Is the Quickshot STU for me?
The Quickshot STU is an old product but it's still a great product that feels amazing and you can get a mouth version.
The vagina, butt, and mouth holes have different tightness which is really nice.
I recommend the Fleshlight Quickshot STU if you're after a blowjob Fleshlight or just want a non-transparent Quickshot.
QuickShot Vantage
The Quickshot Vantage is a clear masturbator with a neutral hole in both ends, so no pussy or butt entrance.
It has a swirly inner texture and it's made of the patented "super skin" material that feels super soft and pussy like.
The Vantage was the first clear Quickshot and launched together with the first clear Fleshlight.
Pros:
High-quality masturbator
Clear "super skin"
Nice texture
Cheap
Easy to clean
Cons:
No vagina or butt entrance
No way to squeeze it for more tightness
Is the Vantage for me?
The Vantage is great if you're after a less intense masturbation experience that will make you last a little longer. It's also great if you want a neutral entrance on both ends and a similar experience from both ends.
I recommend the Vantage if you want a less intense masturbator.
Quickshot Pulse
The Quickshot Pulse has 3 rings on the inside as a texture which gives it a pulsation feel when you use it.
It's made of the same "super skin" material as the other clear products which feels amazing to the touch.
The Pulse have neutral entrances without any different in texture feel from one end to the other.
Pros:
Clear "super skin" material
Quality product
Feels like a real soft handjob
Cheap
Easy to clean
Cons:
A mouth or vagina entrance would be nice
No way to tighten the handjob
Should I get the Pulse?
The Quickshot Pulse gives a pulsation sensation in your penis when you use it or somebody use it on you. It feels very nice and very handjob like.
I recommend the Pulse if you love a good handjob.
Quickshot vs. Fleshlights
You might be looking at both a full Fleshlight and a Quickshot but can't decide which one to get.
Let me help you by setting up a few reasons why you should get one or the other.
Quickshot pros:
Super easy to use with minimum preparation
Very good with a sex-partner
You can get a Launch for your Qs
A lot cheaper than a Fleshlight
Small and compact easy to hide away
Very easy to clean because of its open-ended design
Fleshlight pros:
Give you a full penetration experience
Great for solo play
You can adjust the suction with the back lit
A lot more textures to choose from
Variation in colors and textures
Fleshlights are a lot more difficult to clean but they can also give you a much fuller experience. But a Quickshot is so fun to play with if you have a sex-partner. You can read some of our Fleshlight girl reviews if you want to know more about the different options.
Quickshot Accessories
You can get a few nice accessories that will make you whole experience a lot more pleasant. Let's take a look at some of them and find out if you really need it.
The Launch
The Quickshot Launch is by far the biggest, most expensive, and most exciting accessory that you can get. This is quite an expensive upgrade, but it's also able to transform your masturbation to a handsfree experience.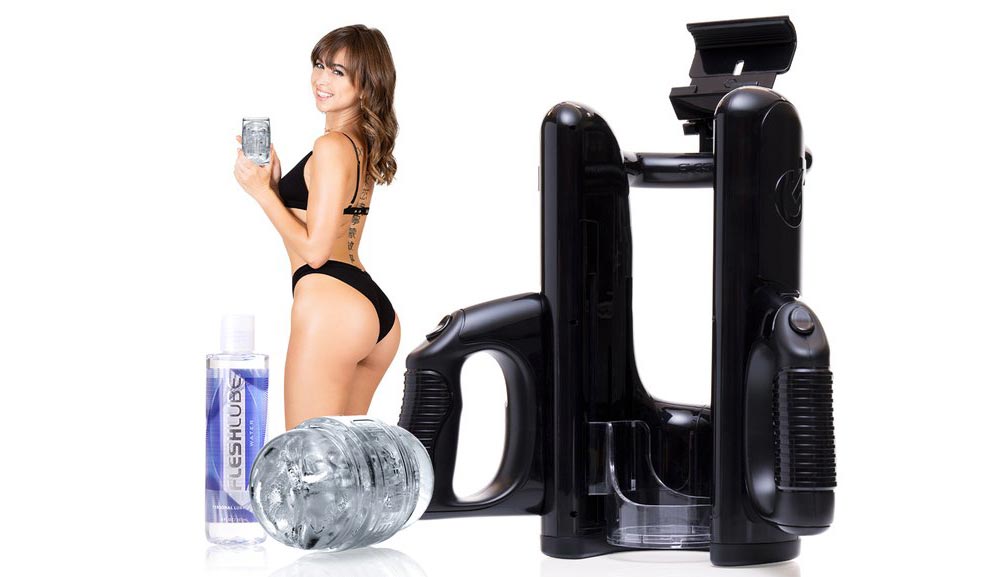 The Launch has two handles with control buttons on each, a mount for a phone entertainment (porn, or whatever turns you on), a mount for your Quickshot.
You can change the stroke length, the speed and which part of your penis it should focus on. You can enjoy up to an hour of fun on a full charge or plug it into the wall and enjoy it as long as you want.
You can get the Launch by it self or get it with a Quickshot of your choice and save a bunch of money.
The link below is to the pack with the Launch, The Riley Reid Qs which is my favorite of them all.
Shower mount
This is the same shower mount for Fleshlights and you'll need an adaptor to make the two fit together.
I wish they would have made another simpler solution but that's what we got to work with if we want to enjoy it handsfree in the shower.
Below is a link to a combo pack that include both a Qs Vantage, Shower mount, mount adaptor and a bottle of lube. This is a great pack if you want to use it hands free in the shower and don't have the mount from a Fleshlight already.
Quick Connect
This is just a simple clear piece of plastic that can connect two Quickshots to give you more like a Fleshlight experience.
Sleeve warmer
The sleeve warmer works by heating up the Qs from the inside out. You simply plug it into a power-outlet and put the Qs on the heading element and leave I there for 15-20 minutes until it's warm.
A warm Qs is so much nicer to put your cock into compared to a cold one.
You can simply submerge your Qs in warm water if you wish to get the same effect and save the money.
FAQ
Final thoughts about Fleshlight Quickshots
The Quickshot lineup might look like a budget Fleshlight but you couldn't be more wrong. The products in this category have a lot of advantages over the normal Fleshlights and they are much cheaper.
A Quickshot is in my personal opinion a lot more fun to use for couples since you can watch what is going on and the penis head sticks out so you can give a blow-hand-job all at once. Your can also enjoy and see that glorious cum shot at the end.
I recommend the Riley Reid Quickshot if you want a fun little toy that can be used by yourself or with a sex-partner.