The best clear Fleshlights tested and reviewed 2021
A Clear Fleshlight give you the amazing ability to see everything and take your self-pleasure to a whole new level.
It feels amazing when you have an orgasm inside the Fleshlight and you can see it all which is a massive turn on.
There are 4 different clear Fleshlights available right now with different textures and tightness.
Let's take a look at the best clear Fleshlights here:
Best clear Fleshlight 2021
#1

Ice Lady

The Ice Lady is a classic Fleshlight that looks like a vagina but it's completely transparent. The useable length is 8.75 inches (22.2cm.) which is enough for most men.
The entrance is not super tight but tight enough that you feel it when penetrating it. There are a wide range of different textures on the inside that makes it fun to use.
Plus, there is a very narrow gap at around 5-inch in that makes it really intense to use and it fits perfectly just behind the glans.
What you get:
A super cool unique vagina masturbator
The ability to see everything
A High-quality product
Easy to clean and maintain
Get lots of accessories to improve the experience
I recommend the Ice Lady Fleshlight for all men who are interested in a peek inside.
#2 Ice Butt
The Ice Butt sleeve is a full size clear Fleshlight that has the exact same texture and shape as the Ice Lady. I don't know why they haven't made a unique texture for the butt versions since they do that with all their Fleshlight girls.
The price for this clear anal sleeve is $69.95 and that's $10 cheaper than the butt versions of the Fleshlight Girls.
What you get:
A clear anal masturbator
See your own penis penetrate it
Easy to clean and maintain
Get accessories to improve the usability
The bad part:
Same texture and shape as the vagina.
I recommend the Ice Butt if you wish to have a peek at your penis while you use an anal masturbator.
#3 Go Torque Ice
The Go Torque Ice is a small transparent Fleshlight that has a 6.5 inch (16.5 cm.) insertable length and a total length of just 7 inches (17.8 cm.). This makes it one of the smallest Fleshlight that they have ever made.
The Go Torque Ice cost $58.96 which makes it one of the cheaper Fleshlights.
What you get:
Compact design perfect for the traveling man
Good price
Same texture ass the Ice Lady just shrunk down
The bad part:
The Go Torque Ice is just 6.5 inches (16.5 cm.) long and it deep enough for some men.
I would personally pick the Go Torque Ice Fleshlight if I was travelling a lot and need a small clear Fleshlight.
#4 Flight Aviator
The Flight Aviator is the smallest of the 4 clear Fleshlights and it has been made specifically to be easy to bring with you. The entrance of the sleeve is tight and the texture is super nice and it gives a really good sensation on your glans when you penetrate it.
The Flight Aviator is just $49.95 which makes it the cheapest Fleshlight available right now (2021).
What you get:
A small and handy Fleshlight that's easy to bring with you
The cheapest Fleshlight
A nice tight sleeve with a lot of texture
Transparent sleeve and housing
The bad part:
The usable length in only 6 inch (15.2 cm.) which is not enough for guys with just a bit over average penis size.
The Flight Aviator Fleshlight has a super compact design which makes it perfect on the go.
Where should I buy my clear Fleshlight from?
There are currently 4 clear Fleshlight and 2 clear Quickshots – They are all available at fleshlight.com and that's also the recommended way to purchase them.
You can also buy a very nice clear lubrication that works perfectly with any sleeve.
If you want to take it one step further then I would recommend that you get a shower mount for the Ice Lady or Ice Butt. This will make it super easy to use in the shower and it feels amazing and much more sex like compared to masturbating.
What are the advantages over a normal Fleshlight?
There are a number of advantages with a clear design over a "normal" skin colored design, let's take a look at some of them here:
The sexual act becomes very visual and nothing is hidden which makes it very exciting to use. This is personally a huge turn on for me, I simply love seeing my penis penetrate the Ice Lady sleeve and watch is go all the way to the base and back out again.
It's very easy to clean compared to other designs since you can see where lube and semen get stuck and you can simply focus your clean effort on that area.
The clear Fleshlight models are cheaper compared to the other Fleshlights. This might have something to do with the material cost or the lack of commissions to the pornstars that model for each Fleshlight.
I really love my transparent sleeves and use them quite a lot.
Tips for using a transparent Fleshlight
Using a transparent Fleshlight is just like using any other Fleshlight and here are a few tips if you're new to it.
Use a Fleshlight warmer to get a good warm and welcoming experience. I know it does sound contradictory to heat up a product that's called Ice, but I do prefer a warm hole compared to a cold one.
Remember to use a good-quality clear lubrication. It would be wrong to use a cream colored lube in your clear sleeve. Start with a small amount of lube and add more if needed.
Clean your clear sleeve with warm water and anti-bacteria soap and use that transparency to your advantage when you clean it.
The same tips apply to all other Fleshlights except for the lubrication color which doesn't matter on a "normal" Fleshlight.
Are you a big fan of transparency?
Why not get the ultimate "Clear as ice pack" that include 3 clear Fleshlights, a clear Quickshot Vantage, and a bottle of Fleshlube!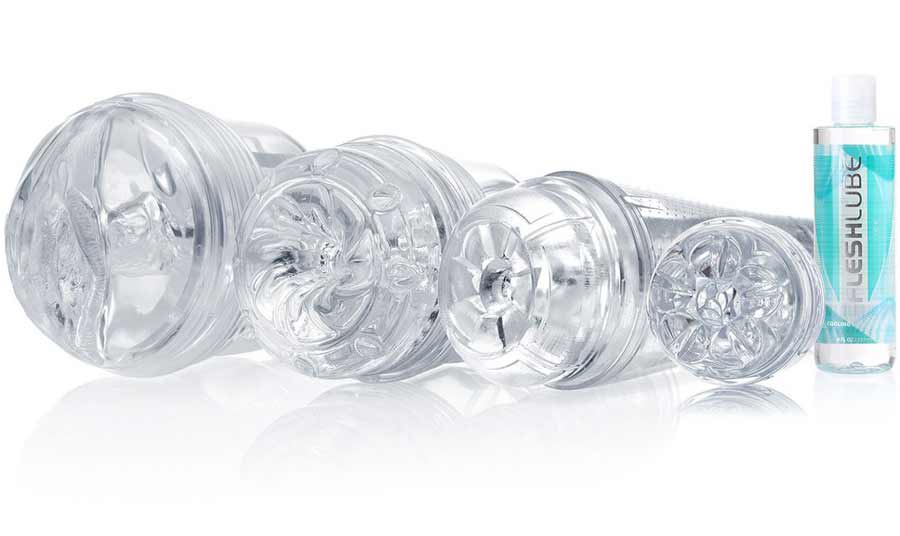 This entire pack cost just $199.95 and it's a really good deal if you're into clear Fleshlights.
My final thoughts about clear Fleshlight sleeves
I was very skeptical when I first saw a clear Fleshlight but I was completely sold when I tried it the first time. I got a huge turn on when I could see everything, it way like having sex on a whole new level.
Making a clear Fleshlight was such a brilliant idear and I'm happy that the Fleshlight Ice series continue to develop and grow.
I can only recommend a clear Fleshlight to all men, this is truly a unique way to masturbate