Best Rhino dildos
Rhino dildos are a very small niche, but there are a few products to choose from. I've used my decade of experience in the sex toy world to rate them, so you can get the best rhino dildo for your needs.
Not all dildos are created equal and it's important to judge objectively so you get the rhino dildo you deserve.
I rate the products by their:
Build-quality
Material choice
Features
Price
Let's see what rhino dildo got the highest rating in 2021.
Rhino dildo reviews and tests:
#1

Horny Rhino

The Horny Rhino is a premium quality handmade dildo from Mr. Hankey's Toys. They are known for their superior quality and it really shows when you hold the Rhino dildo in your hands.

You can select between 5 different colors and 2 different silicone blends that have different firmness.

The Horny Rhino dildo is available in 4 different sizes and you can even buy it with a Vac-U-hole in the base.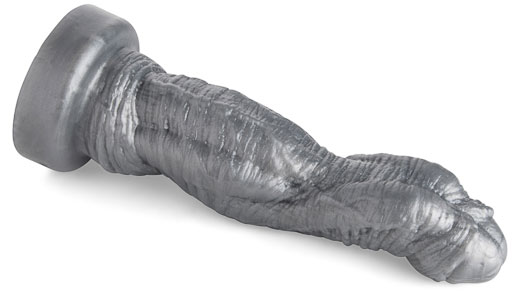 What you get:
High-quality rhino dildo
Handmade with platinum cured silicone
Color and firmness options
4 Size options
Cons:
Very expensive
Even smaller versions would be nice
Horny Rhino dildo conclusion
This is by far the highest-quality rhino dildo you can get, but you're also paying a premium. The "Small" version cost $130 and the biggest is $175 which is a lot for a dildo.
The colors look amazing and the details look so cool – The base is rather large and can easily be used to put on the flour and used as a sitting dildo.
I would personally recommend the medium firmness since the soft dildos tend to bend when used especially the bigger ones.
I recommend the Horny Rhino if you're after the highest-quality rhino dildo.
*The link below leads to the front page of Mr. Hankey's Toys – Just click on the shop and find the Horny Rhino dildo.
#2 Raging Rhino 17-inch
The Raging Rhino is a 17-inch-long dildo that can be bought in a jet black or beige color. The insertable length of 35cm (13.7") should be plenty for most users.
It's 2.4-inch width at the narrowest place and around 3.5-inch near the base. The veins really stick out all along the shaft.
The base is a suction cup, but it's a tiny bit too small which can result in lose of suction.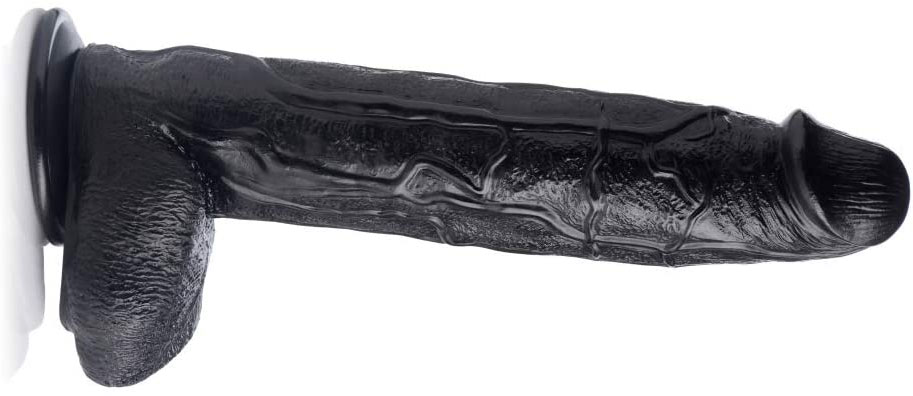 What you get:
The longest rhino dildo
Good-quality silicone dildo
Perfect for size freaks
2 Different colors
Cons:
The suction cup base is a little weak
It's a little too soft
You need a massive budget for lube!
Raging Rhino conclusion
The Raging Rhino is an absolute beast of a dildo that attracts the size hungry users who can't get it big enough.
It looks kind of thin when you see it on pictures due to the long length, but don't get fooled by it – It's freaking massive!
The veins along the shaft can really be felt all the way down due to the huge girth.
I recommend the Raging Rhino 17-inch dildo if you can't get it big enough!
*The button below contains an affiliate link to Amazon.
#3 The Beast Rhino dildo
The Beast is a large rhino dildo with an insertable length of 21.5cm (8.5") and it's made of two types of silicone. The outer layer is soft and skin like while the inside is stiffer and firmer.
The base of the Beast is a suction cup that can both be used on a smooth surface or used as mounting in a strap-on harness.
It's a Japanese product that you can't normally buy in USA/Europe, but Kanojotoys (the seller) has specialized in selling Japanese sex toys to the wester marked.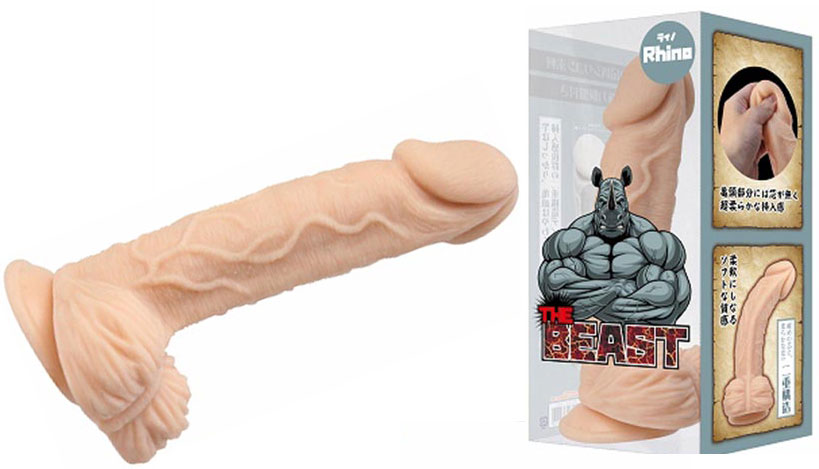 What you get:
Good-quality rhino dildo
Dual density materials
Very cheap
Including suction cup
Cons:
Looks too much like a human cock
The Beast Rhino dildo conclusion
The Beast is not really a beast compared to the first 2 dildos on this list, but that's the name of it and it's still really big compared to other more "normal" dildos.
The dual density design is a nice touch that makes it feel both soft and real like, but also stiff enough to stand strong and to sit on without it bending.
You're getting a lot of dildo for a small price and it's well worth it if you're on a budget.
I recommend The Beast Rhino dildo if you're on a budget but still wants good quality.
Are there any alternatives?
I know the selection of rhino dildos is very small but there are quite a few similar style dildos that you should have a look at.
Horse dildos – There are a very large market for horse dildos and they look similar to rhino dildos so there should be a good chance that you can find one that you like. I've written a large guide to horse dildos before and made a list of the best horse dildos here.
Elephant dildos – Properly the closest you get to a rhino, but elephant dildos are also a very small niche so you're stuck with a very limited about of options. You can find my article about the best elephant dildos here.
Walrus dildos – Not the closest in terms of shape, but the size is very similar and they have a very special feel and look to them that might interest you if you're already after a rhino dildo. I've created a list of the best walrus dildos here.
There are many different animal dildos with widely different styles and sizes to choose from. My guide to animal dildos might be interesting to you.
These are all very good alternatives that feels and looks similar unless rhinos is your ultimate fantasy.
Rhino dildo FAQ
Final thoughts about Rhino dildos
Rhino sex toys are not super popular, but the quality of the few are pretty good and there is some for everyone.
I know that the Horny Rhino dildo is quite expensive, but I still recommend it. You're going to love it and it will serve you well for years if you treat it well.
I recommend the Horny Rhino if you're after the highest-quality rhino dildo.