Best metal cock rings reviewed and tested 2021
Stainless steel cock rings are a great way to get a hard and long-lasting erection and there are lots of different rings to choose from.
There are however a lot of junk products between that you should avoid at all costs.
We should see how I rate the products before we jump to the best stainless cock rings.
This is how I rate them
I judge the different metal cock rings by their:
Quality – It's very important that it does not break, especially when it's on your body.
Shape – The shape of the metal ring determine how well it sits on your body and how effective it is.
Price – Not super important, but there has to be a correlation between price and quality.
Let's have a look at the highest rated metal cock rings in 2021.
The best metal cock rings 2021
#1

Rhinestone Accented Golden cock ring
There is nothing more bling than a large gold ring with a stone in it and that's exactly what I have for you in the first spot on this list.
This is going to spark a lot of interest in the bedroom once you pull your pants down and reveal the bling king.
But this is not just for eye candy and bling – it works perfectly like a normal cock ring and boosts your strength.
This is what you get with a Gold cock ring:
Thick metal cock ring
Super fancy looking
Impressing jewelry for your cock
I recommend the Gold cock ring if you want to impress your sex partners with bling and strength.
#2 Primal Fusion cock ring in Matte stainless-steel
Primal makes the "world's best-fitting cock rings" according to them self and I'm pretty sure they are right about that.
The Fusion cock ring is made of high-quality stainless-steel that are brushed to get this gorgeous matte finish. The ring is quite narrow at the underside, but they have other options like the "Energy" that are wider.
You can select between 4 different sizes and they have a nice sizing guide you can follow to get the right size.
This is what you get with the Primal Fusion cock ring:
Premium quality metal cock ring
Choose between 4 different sizes
Good support and guides
I recommend the Primal penis ring if you're not afraid of paying for premium quality.
#3

 Stainless Steel Ergonomic Curved Oval Cock Ring

This stainless-steel ring can be bought in 6 different sizes so chances are that you can find a perfect fit in their selection.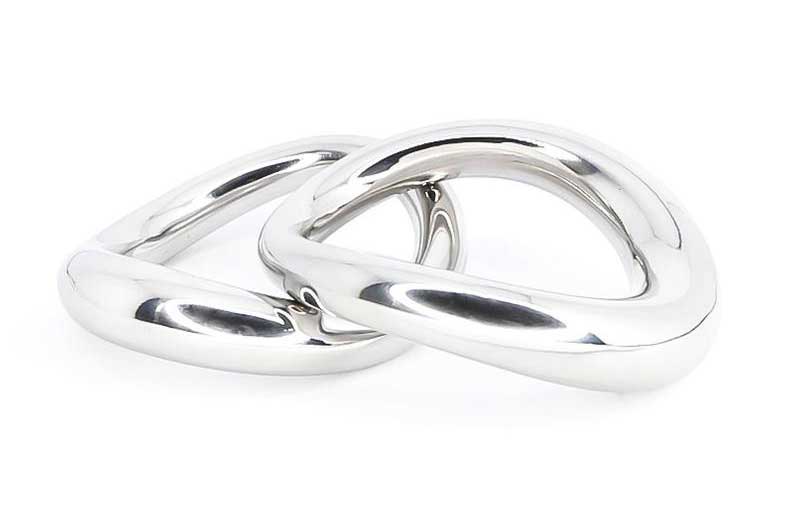 The rings have an oval shape that curves so it should sit nicely against your body without any shape edges.
The diameter of the metal is 6 mm on the top and sides and 12 mm at the bottom which makes them look special and very premium.
This is what you get with Stainless Steel Ergonomic Curved Oval Cock Ring:
Very high-quality handmade stainless-steel ring
Choose between 6 different sizes
Quite cheap
I recommend this product if you're after a premium metal cock ring.
#4 Ballistic Aluminum Glans and shaft cock ring
The Ballistic Aluminum rings are made of machined aircraft grade aluminum in California, USA.
The rings are mad to sit right behind the glans or anywhere on your penis shaft.
You can select between 5 different models and each model comes in 5 different sizes.
Make sure that you measure your penis shaft size before ordering.
This is what you get with Ballistic aluminum glans and shaft ring:
High-quality aluminum cock ring
Many different models and sizes
Cheap
I recommend the Ballistic metal cock rings if you're after a good glans cock ring.
Why would you want to use a metal cock ring?
There are a few good reasons why you would want to use a metal cock ring, let's take a look at some of the reasons here:
Get harder – Getting a harder erection is why most men use a cock ring during sex and it's very effective.
Last longer – You can may also last longer before you climax if you wear a ring around your balls. You can get special cock rings for both your balls and penis if you wish.
Looks – There are lots of high-quality metal cock rings that looks really cool and they fit well in bondage and/or SM sex.
Metal penis ring tips and tricks
Metal ring are not like other cock rings that are made of silicone and other flexible materials since it's very hard an inflexible.
Here are a few tips for metal penis ring users:
Get the right size – Metal cock rings are often measured by the inner diameter of the ring and you should get one that fits that size by measuring your penis. I got fit is super important when using metal or any other inflexible cock rings.
Lube up your ring – Getting a metal cock ring on and off can be very challenging, but lube is a great way to make it easier. Put lube on your penis shaft as well so it doesn't absorb the lube that you put on the ring when you put it on.
Ice or cold water – Didn't the lube method work for removing your metal ring from your penis, then try putting cold water or ice on your penis so it starts shrinking.
Practice makes perfect – Don't use your newly bought metal ring with a sex-partner before you've given it a go before. Try it on and have a little masturbating session to see if it's a good fit and everything is as it should be.
Maximum 30 minutes – Never wear a metal cock ring for more than 30 minutes or any other cock ring for that matter.
Feel free to send me an email if you have other tips that you wish to share with us at Kinkycow
My final thoughts about metal cock rings
Metal cock rings are not super popular because of the difficulty of putting them on and taking them off. It's much easier to do that with a flexible cock ring or even an adjustable cock ring.
But there is just something special about metal directly on your body that makes it special.
I would suggest that you give it a go and try to find that metal ring with the perfect shape and diameter for your body.
It's definitely worth it if you're into metal sex gear and/or bondage.
I recommend Gold penis rings if you're looking for a good looking metal cock ring with style.