The Ultimate guide to the best male masturbators
Masturbator sex toys for men come in a lot of shapes and sizes, there are even some that will do it all for you.
I'll walk you though some of the different types of male masturbators in this guide and you'll hopefully find a product that match your budget and needs.
All the masturbators on the lists below are great products in their own way and have been selected based on over a decade of experience working with sex toys.
The first category is the automatic male masturbators that does all the work for you.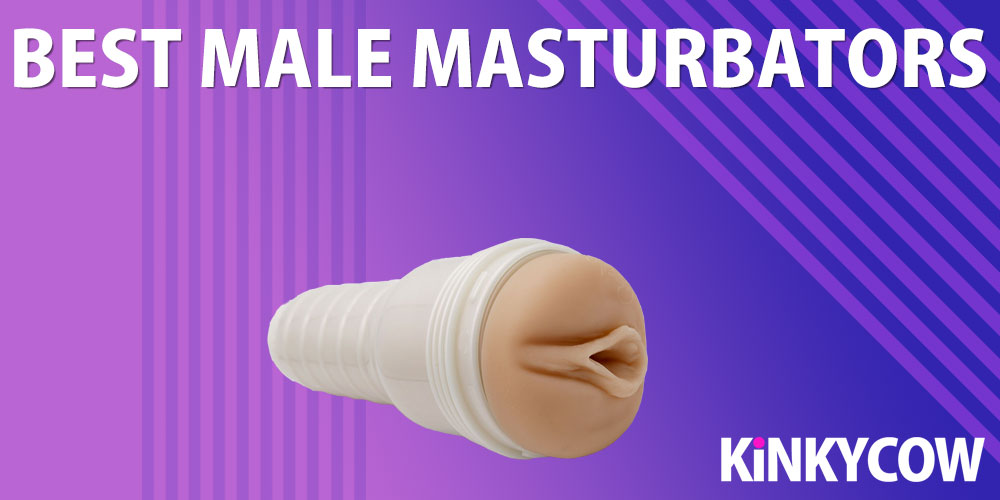 The best automatic masturbators for men
#1 Fleshlight Universal Launch
Fleshlight is back in the first spot with their brand new "Universal Launch" automatic male masturbator.
Their old version called the Fleshlight Launch was discontinued a few years ago and we finally have a new version.
The main difference between the old and the new one is that you can mount any hard-case pocket pussy in the new one.
So, you have 100's of different masturbator options to choose from if you go with the Fleshlight Universal Launch.
What I like about it:
High-quality automatic male masturbator
Perfect grip and controls
Phone mount on the end
Universal mount for any hard case pocket pussies
Up to 60 minutes of run time
What I don't like:
Expensive
The strap is a little slim
Very bulky
Fleshlight Universal Launch conclusion
I'm super happy that Fleshlight is finally back with a new version of their Fleshlight Launch which has served me well in the past.
It's still a little too early to see how the slim strap holds up after hours of run time, but Fleshlight is known for their quality and I've risked my reputation and put it in first place.
The fact that you can use any hard case pocket pussy makes this a no-brainer if you're in the market for an automatic male masturbator.
I recommend the Fleshlight Universal Launch if you want to take your masturbation game to the next level.
#2 Keon by Kiiroo and Feel Stroker
Keon is a new and innovative way of masturbating with its smart design that can makes it follow the rhythm of some porn.
This makes it very realistic and you can even watch Virtual Reality porn and get an even more realistic experience.
All you have to do is mounting the Feel Stroker in your Keon and connect to it with an app on your phone/table that you're going to watch sex content on.
The Keon will move the Feel Stroker up and down your cock at the same pace as the sex you watch. Or you can simply set it to manual control and select which speed and intensity that you love.
What you get:
The best automatic masturbator for men
Very powerful stroking
Smart features that will blow you mind
Good-quality product
Lots of special settings for you pleasure
Easy to use and setup
What I don't like:
I wish the battery life would be better
A little more grip for your hands
Keon and Feel Stroker conclusion
The Keon automatic stroker has a lot of speed and power which really starts to shine when it's combined with its smart features.
This is not your average auto masturbator but an experience that will change the way to masturbator forever.
The Keon and Feel Stroker can be bought as a combo set at around $250 which is a high price compared to some other products but it's simple a much better masturbator.
Update April 2021 – Kiiroo has just launched they nice line of FeelStars which is kind of liek Fleshlight Girls, so you're now able to get more strokers for your Keon. I've reviewed the FeelApolonia here if you wish to know more about it.
I recommend the Keon and Feel Stroker if you're after a full-on hands-free masturbation experience.
#3 Quickshot Launch by Fleshlight
The Quickshot Launch is made by Fleshlight and it works with their Quickshot masturbation devices which is basically a smaller version of a Fleshlight.
I don't know why they haven't made it compatible with a normal Fleshlight but I wish they would make that.
You can however join two Quickshots together and get a full penetration experience, you need to get an extra Quickshot and a special mount that lets you screw them together.
The Launch has a couple of handles with control buttons places perfectly at the top so it's easy to control and handle while you enjoy porn on your phone that are nicely placed in the phone holder on the top.
What you get:
High-quality automatic male masturbator
Great handles for maximum grip and control
Lots of settings to control the speed and focus area
Phone holder at the top for porn
Can be used while plugged in to the wall power
What I don't like:
You can't put a Fleshlight in it
It's very big and bulky
Quickshot Launch conclusion
The Quickshot Launch can be bought alone if you already got a Quickshot or as a bundle with a Quickshot of your choice.
I personally love the Riley Reid Quickshot so I've linked to that bundle below but you can pick whatever you like.
It's an overall great product that gives you full control over the speed of the Quickshot and you can even make it focus on a special part of your cock if you wish that.
I recommend the Quickshot Launch if you want a good auto masturbator with different texture selections and focus area selection.
#4 Lelo F1s Developer's Kit
The F1s from Lelo is a penis massager device with a ton of ways to customize for a very unique feeling and experience.
You'll get access to an app once you order the F1s developer's kit that gives you full control of the dual motors and the 10 sensors in the F1s. You can build your own massage program or use the already prebuild programs to explorer new sexual pleasure that you've never tried before.
One of the motors will vibrate your penis while the other motor emits a sonic wave that tickles your penis deep inside.
What you get:
The first sonic waves masturbator
Completely unique and mind-blowing experience
Make your own custom program for your pleasure
Long battery life
Small and handy
1 Hand use
What I don't like:
Not a fully developed product yet
No stroking
Lelo F1s conclusion
The device is very simple to use, just download the app that you get a link to once you order the F1s and connect the F1s with Bluetooth to your phone.
There is a video guide in the app that will walk you through all the settings if you want to know it all.
The Sonic waves that the F1s emits into your penis feels amazing and it's really hard to describe to someone who has never tried it before.
I recommend the Lelo F1s if you're on the forefront of technology and wants to explorer a new way of getting amazing orgasms.
The Best manual male masturbator toys
#1 Fleshlight pocket pussy
Fleshlight is one of the first male masturbator toys and by far the most popular one with over 20 million products sold.
They spend lots of money on material research and they make new models every other month so there is definitely one that fits you.
A Fleshlight consist of an inner sleeve and an outer case, the inner sleeve has a special texture that creates a unique feeling when you penetrate it with your cock.
What you get:
The most popular male sex toy
A manual male masturbator
The ability to use it hands-free with a mount
Super realistic feeling material
Very easy to use
What I don't like:
Cleaning does take a lot of time
No way to use it in a stroker machine
Fleshlight conclusion
I'm the proud owner of over 15 Fleshlights and they each have their own unique feeling texture that makes them special.
A Fleshlight is the best investment you can make if you're new to sex toys and want a simple, yet powerful and amazing feeling first toy.
You can select between almost 50 different Fleshlight girls which are molded after real pornstars or you can go with some of the artificial products. They are all great in their own way.
I've written a full guide to Fleshlights if you want to know more about them before you take a deep dive into one or if you have special preferences when it comes to tightness, intensity and/or color.
I recommend a Fleshlight if you want a simple realistic feeling male masturbator in high-quality.
#2 Feel Stroker by Kiiroo
Kiiroo have made a pocket pussy in good quality materials and a skin-like feeling material that feels amazing when you penetrate it.
It's compatible with the Kiiroo Keon automatic stroker which turns it into a super nice automatic masturbator.
What you get:
A high-quality manual stroker
Compatible with the Keon auto stroker
Feels very realistic
What I don't like:
Only one design and texture
No shower mount
Feel Stroker conclusion
The Feel Stroker is a great alternative to the Fleshlights, but there is only one version which is a shame, you do however save $10 if that's what's making or breaking it for you.
The main attraction is that it fits in the Keon auto stroker that will turn it into a hands-free operated smart device that works with Virtual Reality and much more.
I recommend the Feel Stroker if you want to upgrade it with a Keon auto stroker down the line.
#3 Flip Orb by Tenga
The Flip Orb by Tenga is a completely new way of making pocket pussies with its flip design that opens it up.
This makes it a lot easier to lubricate and very easy to clean once you're done with it.
The Flip Orb has two pressure pads that you can press with your fingers when you use it, this will change the sensation and the suction pressure in the device.
What you get:
A new kind of masturbator
Open up and clean easily
Options for bigger once with vibrating feature
Control the pressure and suction
Including a clear storing case
What I don't like:
Just a single design in two colors
No way to mount in automatic stroker
No shower mount
Flip Orb conclusion
The Flip Orb is a great new addition to the other more traditional masturbators that we have enjoyed the last 25 years.
The design is nice and clean and is waterproof so you can bring it with you in the shower.
It does feel really great to use but not as realistic as the Fleshlight and the Feel Stroker.
I recommend the Flip Orb if you want an easy to clean pocket pussy with great feeling material.
The Best male masturbation sleeves
#1 Fleshskins by Fleshlight
The Fleshskins is developed by Fleshlight and uses the same high-quality skin-like material that they are famous for.
Fleshskins have a special texture inside which makes it very exciting to use. There are 4 finger holes that makes it easy to hold it and control the tightness of the sleeve.
You'll get a special drying/storing case that makes it very easy to dry it completely which help prevent mold growth and other nasty stuff.
What you get:
A high-quality masturbation sleeve
Stretchy skin-like material
Awesome texture
Finger grip for easy control
Small and easy to hide/carry
What I don't like:
This is quite expensive
Only one style available
Fleshskins conclusion
This is such a great feeling sleeve that feels amazing around your cock and the finger control makes it easy to use even in the dark.
Let your partner control the speed and tightness for extra pleasure and excitement.
I recommend the Fleshskins if you want the best quality masturbation sleeve that you can get.
#2 Super Sucker UR3
The Super Sucker UR3 from Doc Johnson is an oral style masturbation sleeve for men. The entrance looks like a mouth on one end and it has an open-ended design so your penis will stick out when you use it if your penis is longer than 5".
The inside of the sleeve has small ribs which makes an extra strong sensation when you use it.
What you get:
An oral masturbation sleeve for men
Very cheap
Super easy to use
Good grip
What I don't like:
Not the best quality
Should be longer
Just one texture
A little loose
Super Sucker UR3 conclusion
The Super Sucker UR3 is made by Doc Johnson and it's made to fit most men which unfortunately makes it a little loose to use if you're under average in terms of penis girth.
It is a decent product other than that and it's very cheap compared to the other products on this list.
I recommend the Super Sucker UR3 if you want a cheap oral masturbation sleeve for men.
#3 Tenga Eggs
Tenga Eggs are a unique masturbation cup for men that can be bought with 18 different textures so you're sure to find a one that you love.
Inside the egg is every thing you need for a good masturbation session including lubrication.
Simply remove the film around the egg and take out the lubrication and apply it to the inside of the egg and your cock (try to apply lube with just one hand). Insert your cock and hold the outside with your other hand and enjoy it.
The material is super stretchy and it should fit mist guys even for its small starting size.
Remember this is a single-use product and should not be used more than once.
What you get:
Very small and easy to carry
18 Different texture styles
Perfect travel toy with all you need
Multi pack with discount
What I don't like:
Single-use
Very expensive
Horrible for the environment
Tenga Egg conclusion
I've tried a bunch of different Tenga Eggs and I got to admit that they feel amazing. Their single-use are good when you're travelling and want something super small and single-use.
But I would never personally use them on a regular basis since it's super wasteful and extremely expensive!
Tenga Eggs are also known as Onacups that are related to Onaholes which is a more traditional Japanese masturbator.
I recommend Tenga Eggs if you want a super nice single use male masturbation cup.
What style of device do work best for me?
There are plenty of reasons why you should pick each style of masturbator over the others and we all have our own preferences.
Let's take a look at some of the pros and cons of each style of device so you'll have a better chance of selection the right kind of product.
Automatic masturbator devices for men:
Pros:
You can get a completely unique masturbation experience
Somewhat hands-free masturbation
Enjoy synchronized stroking with porn on your phone/VR
Very realistic feeling
Cons:
Very expensive
Some of the products are huge and bulky to operate
Low battery life time
Hard to clean
The cheaper and smaller models are too weak to use
Manual masturbator devices for men:
Pros:
Easy to use
Lots of great options
Super realistic feeling
Can be used hands-free with a mount
Cheap
Cons:
Hard to clean
The material is porous
Masturbation sleeves for men:
Pros:
Very easy and quick to use
Easy to clean
Very small and easy to store/hide
Lots of different options
Great for couples play
Cons:
Some are single-use
Can't be used hands-free
Why haven't I recommended any of the smaller electric masturbators?
All the smaller products that try to fit everything in a nice small package does simply not have the power to do anything that matters.
You're simply not going to feel a whole lot and you're going to get frustrated and start to manually stroke it and that can break the tiny motor in them.
I've tried this again and again in hopes that there should be a great small all in one masturbator for men, but we're currently not there with the technology we have right now.
So, I've decided not to recommend a single product in the category, you're much better off with a manual masturbator or one of the bigger toys like the Keon or the Launch.
What are the cheapest products?
The prices range from several hundred dollars to a couple of dollars depending on the features you want.
The masturbation sleeves are by far the cheapest and can be a great way to get off quickly with a better feeling that your hand.
You can get super cheap pocket pussies but I would not recommend them since the material and overall quality of them are terrible. They are most likely going to break or give you a nasty penis rash if you're unlucky.
Are there any life-size male masturbators?
I wouldn't call a life-size sex doll for a masturbator, but if that's what you're looking for in a sex doll that that's fine with me.
I've written lots of guides on sex dolls and the majority of them are in the life-size category. I would recommend that you take a look at my sex doll guide here or if you want a super realistic love doll then check out this guide to realistic looking love dolls.
Is there any hands-free male masturbator?
All the devices on the lists above all require hands to operate in some way or another. You can however buy shower mounts for some of the manual devices that let you but it on a smooth surface like the wall in your shower.
This will allow you to use it standing without the need for your hands.
There are unfortunately not any true hands-free masturbator toys for men at the time of writing this article. You could argue that the Keon and the Launch are hands-free since they will stroke a masturbator up and down your penis, but you still need to hold it and press it against your body.
I things it's just a matter of time before one is developed, but I have a feeling that it might be expensive, but will see – I'm looking forward to its arrival and will update this guide if it's any good.
FAQ
Final thoughts about male masturbation toys
A masturbation toy is often the first sex toy men get when they decide to give sex toys a try. It is unfortunately still surrounded with a bit of a stigma for men to own sex toys which is weird that we still have to deal with in 2021 (time of writing).
There are 1000's of different sex toys that will make your masturbation experience a lot more exciting and special and most men have never tried a single one.
I started Kinkycow to guide people to the right kind of sex toy so they get a good first experience. It's a shame that so few especially men haven't tried it.
A male masturbation device is a great way to get started and I'm pretty sure you'll be coming back for more.
I recommend a Fleshlight if you want a simple and good masturbator for men.