Hip Onahole guide 2021
A Onahip or Hip Onahole is an amazing way to improve your masturbation experience.
But they can be quite expensive.
Money and quality do not always go hand in hand so it's important to do your research before buying one.
I've worked in the sex toy industry since 2010 and have a lot of experience with imported Onahips and sex toys from Japan.
I've used my expertise and made a list of the best Hip Onaholes that you can get right now.
The products are judged on:
The build-quality
Material-quality
Features
Price
The list below is updated when new and better Onahips are made and released.
Best Onahip:
#1

Hobomeko Real Thing Sex Onahip

The Hobomeko Onahip is made in a real-size and has a special dual layer design that makes it feel like real skin both inside and outside.

You can enjoy both the vagina and the butt with different textures and tightnesses.

This is perfect for hands-free masturbation since it's 6 kg (13.2lbs.) very stable when you enjoy it 😊
This is what I like:
Real-size Hip Onahole
Dual layer design
Both vagina and butt
Feel very realistic
High-quality Japanese made
Including lubrication
Cons:
Very expensive
Quite large
Hobomeko Conclusion
There is no doubt that this is a high-quality Onahip that's blowing most competing products out of the way.
Its super realistic feeling dual material skin makes it easy to forget that you're having sex with an Onahip and not a real girl.
Both the vagina and the butt hole feels amazing and will give you a widely different stimulation.
I only wish that it would have been cheaper, but Japanese quality directly imported does come at a cost.
Kinkycow recommends Hobomeko Onahip if you want the best of the best and are willing to pay for it.
#2 Maga Kore 7zu7
The Maga Kore 7zu7 is a half-size Onahip with full legs and feet that's based on Hentai. It's made in a dual material layer design which gives the pussy and butt hole a different texture and a bit more durability.
You can enjoy both of her holes and there is even some lubrication included so you're ready to enjoy it as soon as you get it.
It's 3.8 kg. (8.4lbs.) so it's quite a bit smaller compared to the Hobomeko Onahip but that does also make it a little easier to store away and more around.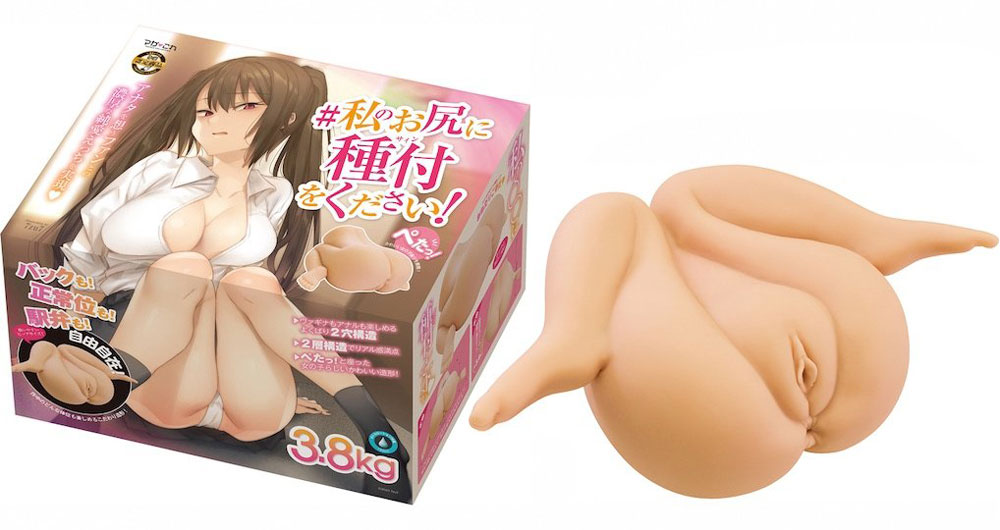 This is what I like:
Hentai based Hip Onahole
Full legs/feet
Dual hole design
Dual material layer design
Including lubrication
Cons:
Expensive
Hard to reach the vagina in doggy-style position
Maga Kore 7zu7 Conclusion
The overall quality of the Maga Kore 7zu7 Hip Onahole is very good and you're getting a premium masturbation device that's going to last you a long time if you take good care of it.
Its folded-up legs and feet makes it really good for doggy-style sex if you place it on a table or something similar.
You're going to love it if you have any kind of foot fetish, but you don't have to and it's such a great Hip Onahole in so many ways.
Kinkycow recommends the Maga Kore 7zu7 Onahip if you're after a full leg/feet Onahip.
#3 Inwaku Labyrinth Hip Onahole
The Inwaku Onahip has some amazing looking art on the box which is inspired by a Japanese woodland fairy creature.
The inside of the box reveals a decent size Onahip in dual material design and a lot of extra stuff. It's 3.8 kg. (8.4lbs.) size makes it a roughly half-size Onahip and perfect for most users.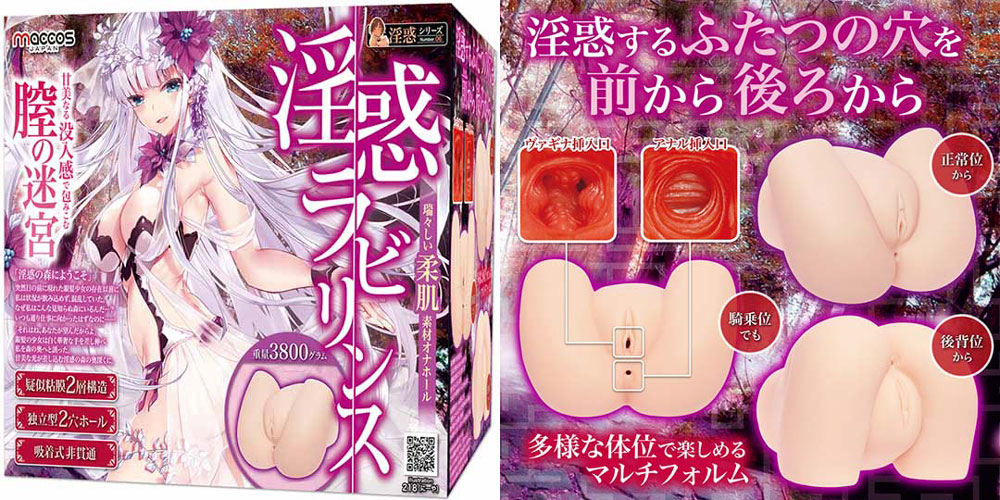 This is what I like:
Budget friendly Onahip
Lots of different vagina and butt textures
High-quality dual layer materials
Including storage case and lube
Dual hole design
Inwaku Labyrinth Conclusion
Wow you're getting a lot of fun for a small price with the Inwaku Onahip. Both of the holes are super textured and the stimulation is very strong and feels really good.
I love that they've included a lot of extra stuff even though the price is pretty low for the size and the quality.
It's such a good value that I've put it in the top 3 best Onahips as the best budget option.
Kinkycow recommends the Inwaku Labyrinth Hip Onahole if you want a good value option.
#4 Mari Takasugi Momojiri Peach Onahole hip
Mari Takasugi Momojiri is the first Onahip on this list that's made like a replica of a real person. Mari Takasugi is a Japanese adult video star that has performed many adult videos over the years.
She is super popular and one of the reasons why you can buy a molded version of her sweet little pussy and her butt. The Onahip does also come with a bottle of her specially branded lubrication and her autograph on the Onahip itself.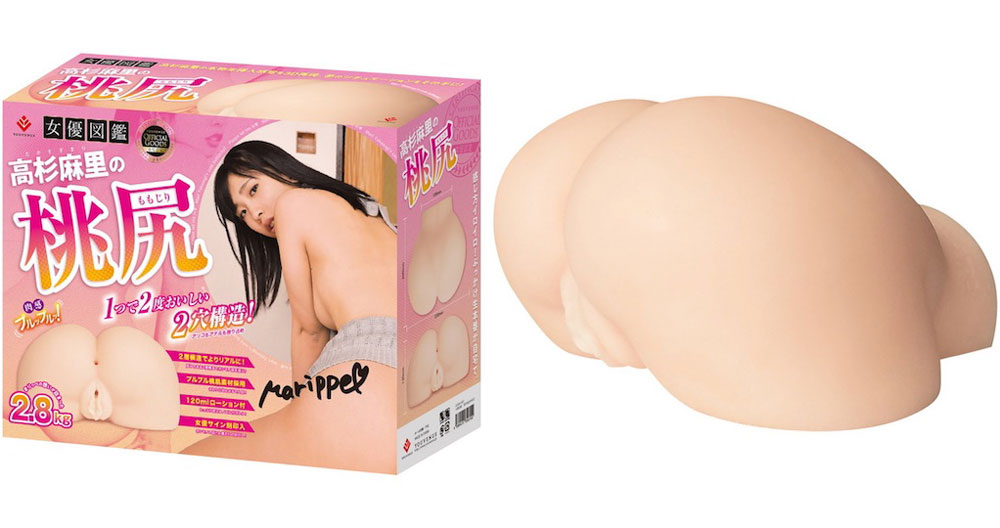 This is what I like:
High-quality real looking Onahip
Including Mari Takasugi themed lube
Double hole design
Dual material layer
Full-size
Mari Takasugi Conclusion
It's always nice when I test products that are based on adult stars because I can enjoy them while watching them. This adds a whole new level of realism to the masturbation experience and one that I really enjoy.
The product is high-quality but I would wish that it would have been slightly bigger especially when you consider the high price.
Kinkycow recommends the Mari Takasugi Onahip if you want a replica product of a real adult star.
#5 Kizuna Sakura Bijiri
This is another Onahip that's made from a mold of a real person, this time the super sexy Kizuna Sakura.
YouVenus has created this master piece and they are known for their excellent quality and realistic feel.
The Kizuna Sakura Bijiri Onahip is 3 kg. (6.6lbs.) and full-size so you get the realistic feel of her body while you use it.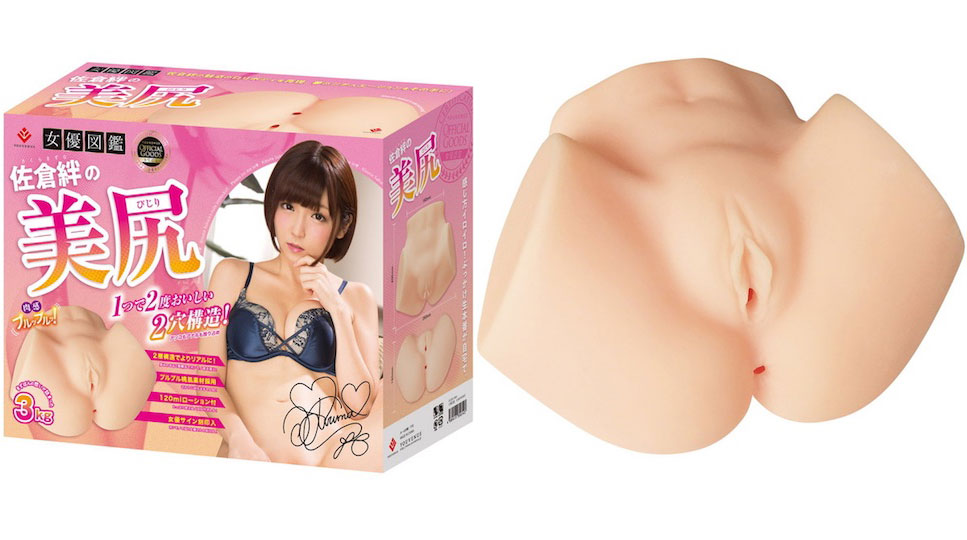 This is what I like:
Full-size realistic feeling hip and waist
Dual hole design
Double layer material for extra stimulation and durability
Fair price for the quality and size
Including Kizuna Sakura themed lube
Cons:
I wish it was a little heavier
Kizuna Sakura Bijiri Conclusion
Bijiri means nice ass which is very suitable for this Onahip and I'm sure you'll agree with me when you touch it and give it a little grab on the butt cheeks.
Kizuna Sakura has made lots of porno and it would be a shame not to enjoy it while you enjoy her masturebator and some of the included themed lube.
It's an overall great product that's going to give you plenty of love if you love it back and take good care of it.
Kinkycow recommends Kizuna Sakura Bijiri if you love her adult work and wish to give her pussy and butt a try.
What is a Hip Onahole?
There is no official standard for the different product names and manufactures do stretch it a bit too far some times. But the vast majority of the sex toy industry agrees that Hip Onaholes focus on the hip area and does not have stomach and/or legs.
It is a bit of a definition question and there is a large middle area between a Hip Onahole and a Torso sex doll.
It's just a definition and it should really not matter and dictate what product you get.
What side should I choose?
Hip Onaholes can have a wide range of shapes and sizes but there are three distinct types which are:
Back facing
A back facing Hip Onahole is made with a flat area that lets it sit nicely with the butt cheeks and butthole facing upwards. The flat area makes it very stable and you can enjoy it handsfree if you place it on a flat surface.
It's ideal for you if you love doggystyle and/or anal sex and wish to grab the butt cheeks while you penetrate.
Front facing
A front facing Hip Onahole has flat butt cheeks and back so you can give the front all the attention. It's also very stable and is easy to enjoy handsfree.
There are not that many front facing Hip Onaholes, but I've included some of them in the list of the best Hip Onaholes.
Full hip
A full Hip Onahole has no flat spots and can be used as you like, it makes it a little more unstable, but also a lot more versatile.
You can still enjoy it handsfree, just make sure that you get some of the bigger models. A small Onahip can be pushed when you thrust your cock in and out of it, which is super annoying.
Onahip vs Onahole vs Onacup
They are all Japanese masturbation sex toys for men – you're basically getting the same results but in a smaller and smaller product.
The Onacup – Is very small and cheap, but it might not last you more than a couple of masturbation sessions. It's super easy and handy to use and it's perfect for bringing with you want you're travelling. It can be folded together and put in a pocket if you wish.
I've tested a lot of Onacups and made a Onacup guide if you wish a super small version of a Onahip.
Onahole – You would call this a "pocket pussy" in the English-speaking part of the world, but with a Japanese/Hentai twist.
They are by far the most popular of the 3 and there are 100's of different Onaholes to choose from. I've tested and reviewed several of them and love most of them – You can read more about Onaholes here.
Onahips – Also called Hip Onaholes which are a much larger version of the Onahole that included the entire hip and parts of the legs and stomach.
You're also getting access to both vagina and anal play with most Hip Onaholes which is super nice.
Onahips has an advantage over the Onacups and Onaholes when it comes to hands-free use. They are quite heavy so you can place them in bed or on a table top (or any flat surface) and enjoy it without it moves around. This feels amazing and gives you a much more immersive sexual experience.  
So, which one should I get?
I would personally go for the Onahip if you got the cash to spend and don't travel with it. It simply gives you a much better sex experience.
Get a Onacup if you travel a lot and have a Onahip at home, that would be perfect.
Take good care of your Hip Onahole
Onahips and similar products are made of porous material that need care and love to stay in good condition.
It's super important that you clean your Onahip right after use and don't let anything dry up in or on it. Warm water and a mild soap are plenty to keep it clean, stronger cleaning products might even damage the material that it's made of.
Cleaning and caring tips:
Clean it ASAP after every use
Dry it completely before storing it away
Use cornstarch or sex toy powder on it when it's dry
Don't store it right next to other sex toys since the materials can melt together
Use plenty of water-based lubrication, this will enhance the experience and prevent tearing
-img of water-based lube + pros-
Final thoughts about Hip Onaholes
Hip Onaholes are super popular in Japan and we don't quite have the same quality and quantity in the west. So, it's great that we live in a global world where importing exotic sex toys is as easy as ordering a Café latte at your local coffee shop.
You might be able to find some imported stuff on Amazon, e-Bay, or any of the other third-party sellers, but you might end up with a cheap knockoff version from China. You really don't want that since they break so easily or even worse, they might leak toxic chemicals.
I've dealt with Kanojotoys many times before and have only good things to say about them and the product they sell, so that's why I recommend products from them. They import directly from Japan which ensures great quality and body-safe tested materials only.
I really wish that you found an Onahip that you like – There are constantly being developed new sex toys and they have plenty of other options if you wish to browse around a bit before buying one.
You can find a great selection of Onahips and Onaholes at Kanojotoys.com
Kinkycow recommends Hobomeko Onahip if you want the best of the best and are willing to pay for it.