Black Fleshlights – Find the best black girl Fleshlight
Fleshlight is not known for their colorful range of Fleshlight girls as most of the girls are white, but there are a couple of really good black Fleshlight girl options.
Let's see how I rate the different black sleeves before we jump to the list of the best black Fleshlights.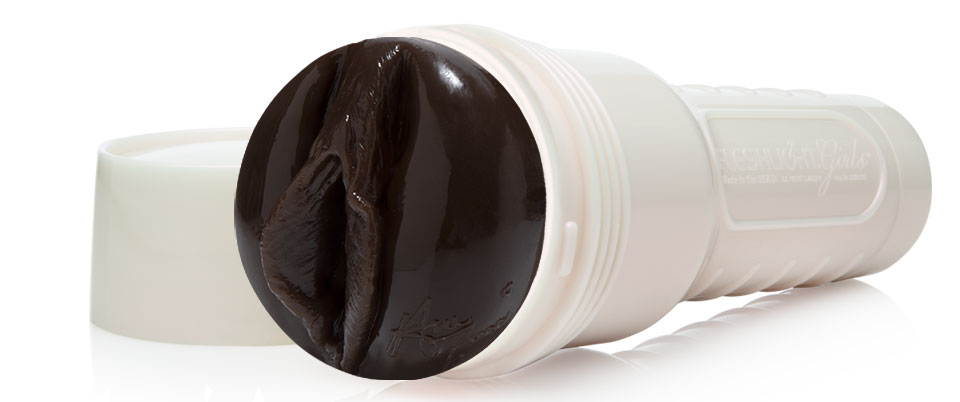 How do I rate the black Fleshlights?
I know that this is kind of a subjective matter and each man has his own preference when it comes to how a good pussy or ass should feel like.
So, I'm judging them from an average man's perspective with an average size penis.
This is how the black sleeves are rated:
How tight is it – Most men love a tight love hole, so tight = good.
Texture – Is the texture interesting or is it too simple. Most men love it when there is a good texture around their glans.
How easy is it to clean – This has something to do with how the texture is made and if it can "trap" cum/lube or other kinds of dirt.
Let's get back to the best black Fleshlight list now that you know how it's rated.
The best black Fleshlight 2021
#1

Ana Foxxx Fleshlight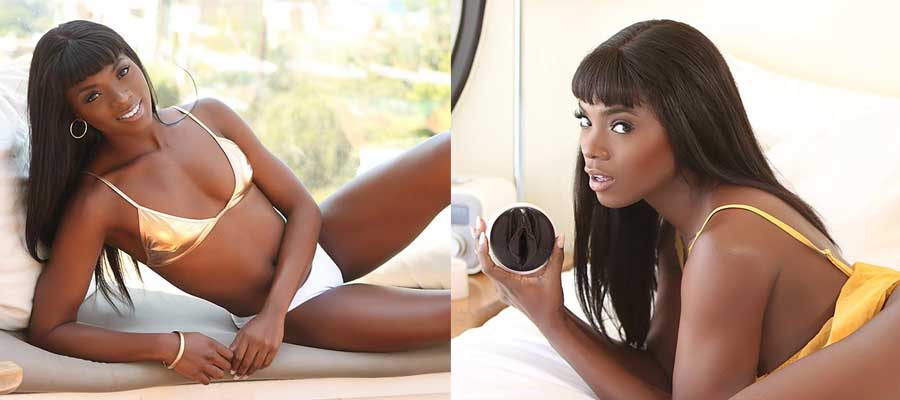 Ana Foxxx is the latest black girl to join Fleshlight and this happened in 2018 and it's a really good addition to the only other black Fleshlight that are available.
The Ana Foxxx's sleeves are called Silk (vagina) and Velvet (ass) and they have a really nice dark chocolate color and a really nice texture that I love.
Should I get the black pussy or anal version?
Silk vagina sleeve – This is quite a wide sleeve that would be perfect for guys that like a looser and softer pussy or for guys with a huge penis.
Velvet butt sleeve – This is a very simple and tight design that's really good for men who love a good tight ass.
Do you want to know more about the Ana Foxxx Fleshlight? Why not read my full Ana Foxx Fleshlight review here and see if this is the perfect black Fleshlight girl for you?
I recommend the Ana Foxxx anal Fleshlight if you're after a nice tight black ass.
#2 Misty Stone Fleshlight
The Misty Stone sleeve was the first black pussy Fleshlight sleeve and it has been around for over 10 years.
Misty Stone's sleeves are called Bump-N-Grind (vagina) and Desire (butt), they have a light brown color and very interesting textures that I'm sure you'll love.  
Should I get the black pussy or anal version?
Bump-n-Grind vagina sleeve – The vagina sleeve has 2 big chambers that makes the sleeves very wide if your penis is under 4.5 inches or over 6 inches. It's super tight if your penis is within that range.
Desire butt sleeve – The anal version has a nice tightness all the way through and it has a lot of good textures. This is a good option for all men who love a light brown ass.
You should have a look at our Misty Stone Fleshlight review if you wish to know more about the Misty Stone black Fleshlight sleeves.
I love the Misty Stone anal Fleshlight and it's a really good black sleeve.
We need more black pornstar Fleshlights!
There are 100's of hot black pornstars and only 2 of them has their own signature Fleshlight? We can do better than that.
Let's try to get more black girls to join Fleshlight so we can have some more options.
You should follow Kinkycow on Twitter and tweet at both us and Fleshlight with your favorite black pornstars that you would love to see join Fleshlight. We should be able to put a bit of pressure on them and we might get some good ebony Fleshlight options.
Why is it even more important to clean a black Fleshlight sleeve compared to a light colored one?
One of the biggest problems with cleaning your Fleshlight sleeves is if it's not completely dry when you store/hide it away. This can lead to mold development on and inside the sleeve which shows as small black spots.
This is really hard to spot if your Fleshlight sleeve is black and you might end up putting your penis inside a mold infested sleeve without knowing it.
That's why it's super important to:
Clean your black Fleshlight as soon as you're done using it, this will make it a lot easier to clean since the cum and lube doesn't have time to dry and get stuck.
Use an anti-bacteria soap to get rid of any nasty bacteria inside the sleeve.
Dry it completely by removing the sleeve from the Fleshlight case and let it sit in an area with circulating air (basically just a large room).
Put Fleshlight renewing powder or a little corn starch on the outside to keep it dry and fresh.
I know this sounds like a lot of work, but it all can be done in less than 5 minutes except for the dry time.
Where to buy a black Fleshlight?
There are only 2 different black Fleshlight girls and the Misty Stone one is over 10 years old which means that it's not as popular anymore and it can be very hard to find it in a normal store or even online store.
You can however always find them at fleshlight.com and this is also the recommended way to purchase it since you're sure to get the real deal and not some second hand or counterfeit version.
Final thought on black Fleshlight girls
It's really nice to see that things are moving in the right direction when it comes to black Fleshlight girls, but there are still only two options.
The best option right now is the Ana Foxxx Fleshlight that's a really good black version that has a good texture and a nice tightness. The anal sleeve even made it to the number 4 spot on Kinkycow's best anal Fleshlight list.
I recommend Ana Foxxx black Fleshlight