Tightest Fleshlight the Ultimate Guide 2021
Let's find you the tightest Fleshlight so you can enjoy yourself even more.
Most men prefer a tight pussy so it's no surprise that the super tight Fleshlight sleeves are the most popular.
Below is a list of the tightest Fleshlights that you can get right now, the list is updated whenever a newer and tighter product is released.
The Tightest Fleshlights tested and reviewed:
#1

Tease texture – The tightest vagina sleeve

Tera Patrick is the Fleshlight girl with the tightest Fleshlight sleeve. Both the sleeve and the entrance are tight which makes it the ultimate best choice if tightness is your thing.

The inside has a few different large texture details that makes it even more interesting to use.

One of the good things about the Tease texture is that it feels tight both if you have a short or a long penis.
Pros:
Extremely tight
Very tight entrance
Super soft
Skin-like material
Tease sleeve conclusion
Tera Patrick's Tease sleeve is the best option if you want the tightest Fleshlight vagina. It feels really great overall and I'm pretty sure you'll enjoy it just as much as I did test and reviewing it.
#2 Boss Level texture – The tightest butt sleeve
Mia Malkova is a true gamer girl and both her Fleshlight textures feels like a game that you're trying to defeat in a good way.
Her butt sleeve is called Boss Level and it swivels its way like a tight dungeon full of excitement and pleasure.
I've had the pleasure of testing and reviewing both her sleeves which you can read more about here. 
Pros:
Very tight butt sleeve
The canal swivels
Soft and skin-like
Boss Level sleeve conclusion
The Boss Level texture from Mia Malkova's butt Fleshlight is not just very tight, it swivels which makes it feel even more tight.
It's the reason why it's rated the tightest butt Fleshlight and I can't recommend this enough if you're after a tight butt Fleshlight.
#3 Cream texture sleeve
The Cream texture of Autumn Falls vagina Fleshlight is a super tight sleeve with a lot of exciting texture patterns.
There are several narrow parts of the sleeve and there are different textures between each part.
I've written a full review of both Autumn Falls vagina and butt sleeves; you should take a look at it if you want to know more about it here.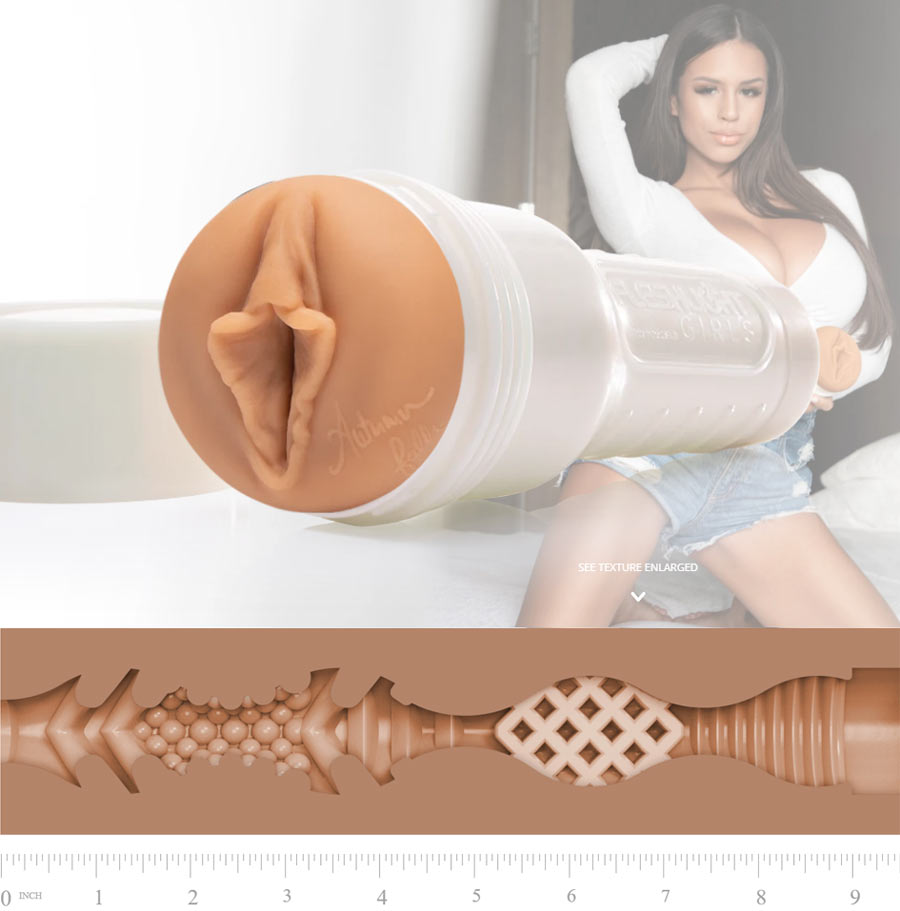 Pros:
Very tight spots
Exciting textures
Ultra-soft material
Cons:
Not tight if your penis is under 4.5-inches
Cream sleeve conclusion
This is a great option if you have a larger than 4.5-cinhes penis and want a lot of different textures. It feels super good to use it and there is a very narrow spot that feels great when you penetrate it.
I recommend it to men who love a soft-brow colored tight pussy.
#4 Heavenly texture sleeve
Jessica Drake's Heavenly Fleshlight could have been the tightest of all Fleshlight sleeves but the second half of it is a lot wider which is a good thing for some men.
The first part feels like a maze that tightens up around your penis when you penetrate it.
It feels really tight around your penis shaft and softer around your glans if you have a more than 5-inch-long penis.
Pros:
Very tight the first 4.5-inches
Tight entrance
Very soft
Heavenly sleeve conclusion
The Heavenly sleeve Fleshlight feels amazing to use with its tight first half and its wider second Half which prevent it from being too tight on your glans.
This is a really good option if your glans is very sensitive and need a little less tightness compared to the rest of your penis.
#5 Velvet texture sleeve
The Velvet texture is Ana Foxxx's butt Fleshlight and this is by far my favorite black Fleshlight of all time.
It has a beautiful shiny dark-brown color and the texture is smooth and soft.
I've written a full review of Ana Foxxx's Fleshlight sleeves and they don't disappoint – you can read the entire review here.
Pros:
Tight black butt sleeve
Beautiful color
Super soft to touch
Cons:
The texture could be more interesting
Velvet sleeve conclusion
This is by far the best tight black Fleshlight you can have and a great option if you love a tight black ass.
There are not that many black Fleshlight options but this one is great!
Final thoughts about tight Fleshlights
Getting the right size Fleshlight is important, nobody want to jerk off in a loose hole with no friction or suction.
If you follow this guide then you should be able to get yourself the right Fleshlight with the right tightness.
A lot of the butt Fleshlights are very tight and you might want to have a look at some more tight butt options here.
And finally remember to use plenty of lubrication to improve the pleasure and enjoy life!