Meiki Onahole guide
Meiki Onaholes are a high-quality series of Onaholes from NPG which feels more realistic to use.
I've done a lot of testing and found 3 of the best Meiki Onaholes that you can get right now.
Best Meiki Onaholes 2021
#1

Meiki no Syoumei Anri Okita

You can say Meiki Onahole without thinking about the Meiki no Syoumei which is by far the most popular model in the Meiki series. It's based on Anri Okita which is a Japanese adult video star with a set of massive breasts and a cute smile.

It's made with the best materials and has a dual layer design in the vagina and butt.

Ohh yes, I said vagina and butt – This thing is a freaking dual hole which absolutely blows the competition away!
This is what I like:
High-quality Meiki Onahole
Double material design
Both vagina and anal
Including lube
Very realistic feeling
Cons:
The anal part could be a little deeper
Meiki no Syoumei Conclusion
Wow, that's all I really need to say about this. It feels like putting my cock inside a real pornstar and the fact that I can use both the vagina and the butt is freaking insane.
If you've never tried a masturbator and want to give it a try, then this is it!
You're getting such a versatile and high-quality product for a fair price, it's a great toy for beginner and experienced users.
I recommend the Meiki no Syoumei Anri Okita if you want the absolute best Meiki Onahole.
#2 Meiki no Shoumei Maria Ozawa
The very first product in the Meiki series from NPG that's based on the Japanese adult performer Maria Ozawa.
She's still active and you can find lots of porno featuring her and it's a great way to enjoy this beautiful masturbator.
The inside of Maria Ozawa has been molded and you're getting a clone of her amazing vagina so you can experience it.
This is what I like:
High-quality
Very realistic feel
G-spot inside
Including lube
Meiki Ozawa Conclusion
You're getting a classic Onahole with this one and you're not getting any of the newer features like dual layer material and so on, but you're still getting one of the most popular Meiki designs of all time.
It's super soft inside melt around your cock and stimulate it from all sides until you cum inside it. You're going to love the soft feels and the textures inside that make it feel so realistic.
I recommend the Maria Ozawa Meiki masturbator if you love watching her adult videos.
#3 Meiki No Shoumei 5 Zhang Xiao Yu
Most Meiki Onaholes are based on Japanese adult stars, but this one is based on the Chinese model called Zhang Xiao Yu who is one of the most famous Chinese nude models.
I've included this on the list of the best Meiki Onaholes because it's so good and so popular!
It's made by the Japanese company NPG which makes some really high-quality Japanese sex toys and the Meiki no Shoumei 5 Zhang Xiao Yu Meiki is no different.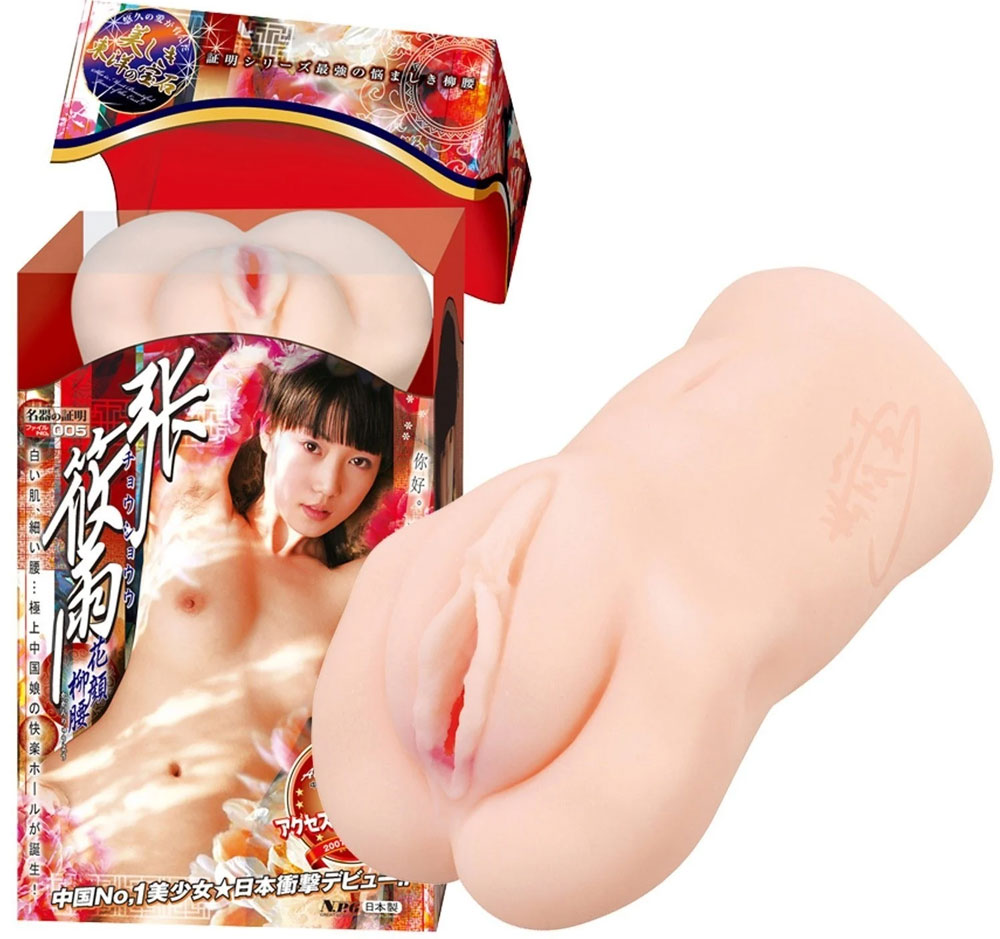 This is what I like:
Large 800g. (28oz) quality Meiki Onahole
Very realistic feeling
Including lube
Perfect for large cocks
Dual material layer design
Cons:
A little tighter would be better
Meiki no Shoumei 5 Zhang Xiao Yu Conclusion
It's very clear that you're dealing with pure quality when you hold the Meiki no Shoumei 5 in your hands. The weight is higher than most products in this category and you're getting a lot for your money.
It feels really realistic and super soft – the dual layer in the vagina has a nice texture and a g-spot that'll stimulate your cock.
I recommend the Meiki no Shoumei 5 if you're into Zhang Xiao Yu or if you just want a high-quality masturbator.
Get the most out of your new Meiki Onahole
You want to get the most out of your new toy now that you've invested in a high-quality Meiki Onahole. There are a few things that can make the experience a lot better, let's take a look at them here:
Use a good lube – Using the right kind of lube and the right amount is essential to a good Meiki Onahole experience. Sure, you can use a bit of saliva, but you risk damaging it and running dry which feels bad. Always use a good water-base lube, all Meiki Onahole sellers do sell special lube for Onaholes and you might be able to get a specially themed lube that matches the them of your Meiki Onahole.
Preheat it – Get yourself an Onahole warmer and place it in your toy 5-10 min before using it. It's going to make a world of a difference. Sticking your cock inside a cold hole is a bit of a turn off and it makes it feel less realistic
Keep your Meiki Onahole fresh and clean
It's important that you treat your Meiki Onaholes with care and wash them gently when you've used them.
You can use an anti-bacteria soap without any added perfume. Remember to dry it completely before giving it a slight dust of renewing power or corn starch.
Meiki vs Fleshlight
Meiki Onaholes if often called referred to as the highest-quality Onaholes from Japan, but anyone can make a cheap Onahole and call it a Meiki Onahole.
Fleshlight is on the other hand a brand name, so they have full-control over all their products in terms of materials and build-quality.
So, it's a little hard to put them up against each other, but let's take try to put the Meiki Onaholes from NPG up against Fleshlight for a fair comparison.

Pros:
They are cheaper
Smaller in size
Large selection
Vagina, anal, and oral
Dual hole designs
Dual material designs
Cons:
Not that many accessories
No hard-case options
Pros:
Lots of options
Hands-free mounts
Auto shaker
Vagina, anal, and oral
Cons:
Expensive
Only hard-case
Very large
So, which one should I get?
Meiki Onaholes are the best that Japan can offer in terms of manual small masturbators and so is Fleshlight in the US.
But they are completely different and have their own ups and downs, so it all comes down to your personal preferences.
But why limit yourself?
Why not get one of each and see what works for you or in my case, use a different product depending on the situation.
I personally love my Fleshlights and all the accessories that take the user experience to the next level, but I do also love my high-quality Japanese Meiki Onaholes and bring them with me when I travel or use them while watching Japanese adult videos.
They each have their own place and there is no reason why you shouldn't have both!
My final thoughts about Meiki Onaholes
Meiki Onaholes are the top end of Japanese masturbators in terms of quality, but the Meiki name is not trademarked so you might end up buying a cheap low quality Meiki product without knowing it.
You're however getting the real deal if you buy any of the Meiki Onaholes on the list above or from high-quality manufactures like NPG.
I personally love Onaholes from NPG and their Meiki ones are amazing and feels so realistic to use.
I recommend the Meiki no Syoumei if you're after a high-quality Meiki Onahole and wants the best of the best.