Blowjob Onahole guide 2021
Let's take a look at the Japanese blowjob Onaholes and find the best one for that amazing realistic feeling blowjob.
I've got over a decade of experience in the sex toy world and have worked with lots of the Japanese sellers that sell directly to USA and Europe.
I've selected the best blowjob Onaholes based on their:
Quality (build/materials)
Realism
Features
Price
You're sure to get a good-quality blowjob experience if you get any of the products on this list.
Yung Ogura
vibrating mouth and tongue
The top 5 best Blowjob Onaholes
#1

Electric Shock Girl Meiko Tomomitsu

The Tomomitsu blowjob Onahole from the Electric Shock Girl series is a really good blowjob Onahole with lots of features for a very good price.

You're getting a 600 g (21.2oz) big toy in a very soft material that feels really nice.

The mouth has a slight pinkish color and the rest is pale skin colored and there is an opening for a bullet vibrator on top of it behind the nose part.

There is a vibrator included that has 12 vibration modes that you can choose from with the push of a single button that points straight at you.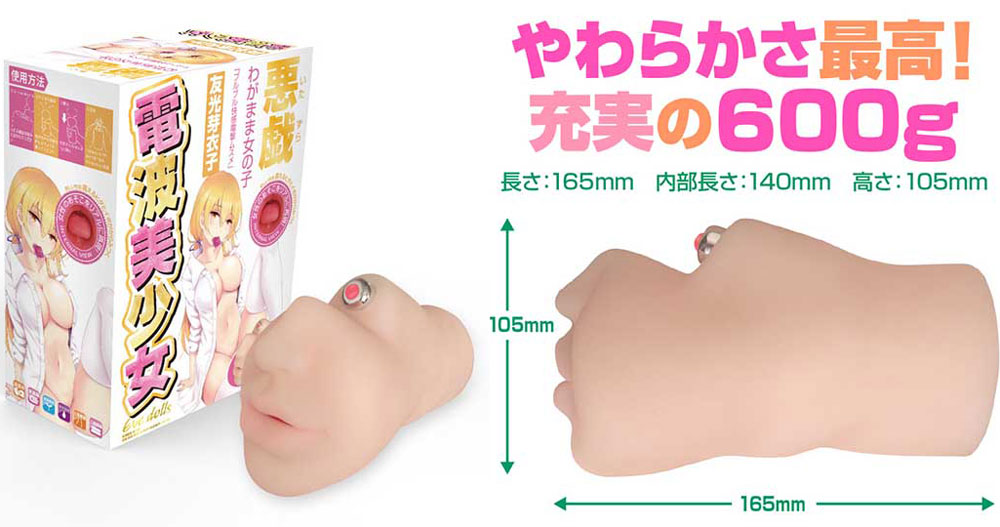 This is what I like:
Decent quality blowjob Onahole
Realistic looks and feel
Vibrating mouth
Vibrator, lube, and batteries included
Cheap for the quality and features
Dual material design
Cons:
A little hard to clean
No vibrating tongue
No fine details
Tomomitsu blowjob Onahole conclusion
I love the fact that this toy has a vibrator included in its relatively low price and it has dual material design which does cost more to produce.
The overall feel of the Tomomitsu is really good and the texture inside the throat is nice and stimulation enough to get you off fairly quickly.
If you're looking for a very good blowjob Onahole for a fair price then the Electric Shock Girl Meiko Tomomitsu is the right choice for you.
I recommend the Tomomitsu blowjob Onaholes if you want the best product for a fair price.
#2 Gokusen-Fella DX Yung Ogura
The Dokusen-Fella DX is based on the Japanese pornstar Yung Ogura's mouth and tongue with an incredible amount of details.
It's feature packed to the limit of what's possible with a vibrating tongue, teeth, uvula, a tight vibrating throat.
All this is crammed into a 955g (33.7oz) big blowjob Onahole that's looking very realistic and has a nice soft skin-like material.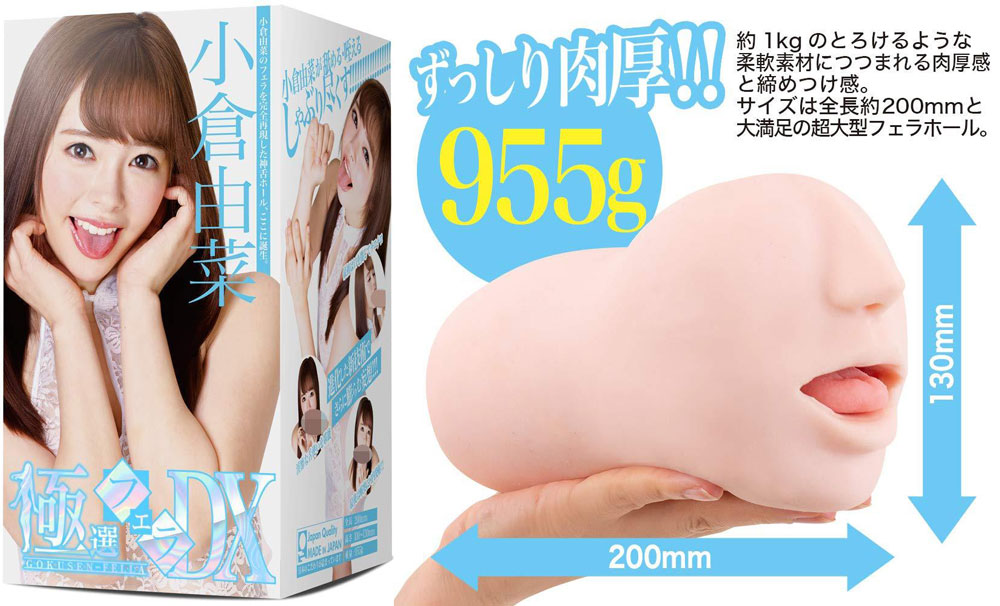 This is what I like:
Very high-quality blowjob Onahole
Realistic look and feel
Vibrating mouth and tongue
Including lube and batteries
Dual material design
Cons:
This is super expensive at $122 (but worth it in my mind)
Quite a heavy product
A little hard to clean
Gokusen-Fella DX conclusion
First off, this this is massive and that might turn some users off, but it just makes it way easier to use handsfree because of the size and weight.
The vibrator is turned on from the back of the device and it vibrates the back of the throat and the very cleaver designed tongue.
This is crazy good – I can't believe that I haven't tried this before!
It feels very realistic and so good, the back part of the throat is very tight and it vibrates the strongest which stimulates your penis head the most.
I would have put the Gokusen-Fella DX in the first spot on this list but the price is simply too high for the average user.
I recommend the Gokusen-Fella DX blowjob Onahole if you want the best of the best and ready to pay for it.
#3 Kuchu Kuchu Gokkun mouth Onahole
The Kuchu Kuchu Gokkun mouth Onahole is a very simple blowjob sex toy from Japan that's made in TPE,
It does come with a bit of lube to get you started and the shaft of the device has ribbles along the side to make it easy to hold.
The inside texture is full of surprises and is long enough to meet most cock sizes.
This is what I like:
Decent quality
Lots of stimulation
Very cheap
Including lube
Cons:
Very few details
The material is prone to breaking
Kuchu Kuchu Gokkun mouth Onahole conclusion
It's a super simple design that still offers great stimulation and the size fit most guys without a problem.
The added lube is a nice addition at this low-price and it's enough to get you started.
You're going to be amazed at how well it feels around your cock and it's a great blowjob sex toy for a quick masturbation session.
I recommend the Kuchu Kuchu Gokkun mouth Onahole if you're on a tight budget.
#4 Eimi Fukada blowjob mouth and pussy Onahole
This product is based on the pornstar Eimi Fukada's mouth and pussy, so it's a win-win if you're a fan of her.
It's an open-ended design with a mouth for blowjobs on one end and a vagina entrance on the other end.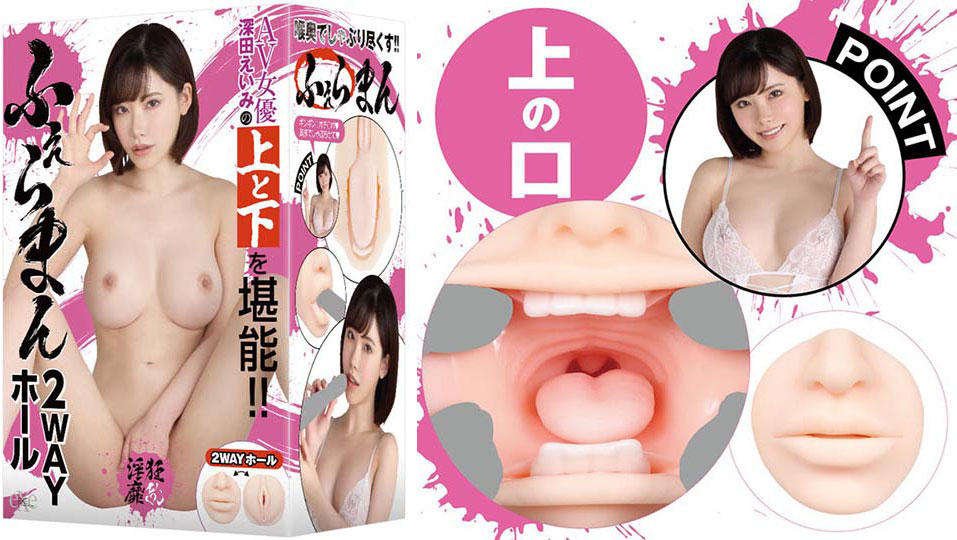 This is what I like:
Both mouth and vagina
Very easy to clean
Including lube
Based on Eimi Fukada
Cons:
Not as tight as closed designs
No vibrating options
Not very detailed
Eimi Fukada blowjob Onahole conclusion
I love that you can enjoy both Eimi Fukada's vagina and mouth with one small sex toy. The small downside of that is the open-ended design that makes it less stimulation without a way to close off the end.
One often overlooked advantage of an open-ended design is that it's super easy to clean as you simply rinse it through with water and a bit of soap.
I recommend the Eimi Fukada vagina and mouth Onahole if you want a dual entry option.
How to get the most out of your new Blowjob sex toy
There are a few ways to enhance your blowjob experience with your new blowjob sex toy.
Use an Onahole warmer – Preheating your blowjob Onahole before putting your cock in makes it feel much more like putting your cock inside a real mouth and not a cold fake mouth. You can find a list of the best Onahole warmers here.
Use a good lube – A blowjob should not be dry and painful but wet and juicy. A nice slippery thought is best achieved with a good thick water-based lube. You can buy them where you buy the blowjob Onaholes or use some that you already got.
Use it handsfree – Using a blowjob Onahole handsfree makes it feel much more realistic and not like a manual masturbator that you shake with your hands. You can squeeze the toy between two objects, like mattresses or similar soft things, and get an amazing handsfree blowjob experience.
Are there any other Onaholes that you recommend?
The Japanese sex toy industry has not been lazy, but been super creative and productive which has resulted in lots of cool products.
I personally love the Hip Onahole which gives you both a vagina and a butt hole option, which is pretty cool.
Or there is always the pure anal Onahole options if you're more of a butt guy.
You could also go with the classic Onahole, I've made a list of the best Onaholes if you're into that kind of stuff.
Final thoughts about blowjob Onaholes
It's nice to see that the Japanese sex toy industry didn't stop after vagina and butt toys like some other places, but have made a quite extensive list of different blowjob Onaholes.
You're going to be amazed at how realistic some of them feels and the stunning details they have to make it as good as the real thing.
I've tried lots of blowjob sex toys and the Japanese Onahole variants are the best manual blowjob toys that you can get in the world!
You can get a near perfect blowjob if you're willing to pay for premium quality or a decent one if you're on a tight budget.
I recommend the Gokusen-Fella DX premium blowjob Onahole if you want the best of the best.