Seahorse dildo guide 2021
Yep, a seahorse dildo does exist and it's super popular, I'm of course talking about the Seahorse dildo from Hankey's Toys.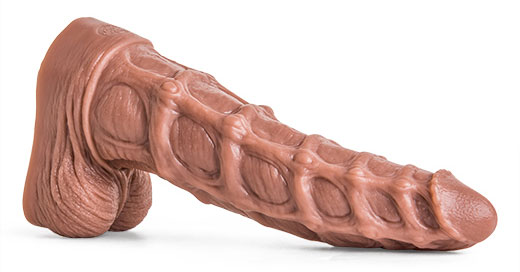 You can get the Seahorse dildo from Mr. Hankey's Toys in 5 different sizes and the biggest version, called the XXXL version, is absolutely enormous.
*The link above is directly to the Mr. Hankey's Toys homepage, just click the "Fantasy dildos" and find the Seahorse dildo.
It has been used by some users to compete in how deep they can get it anally. Only one has so far managed to get it balls deep, which feels like an impossible feat.
Below is a picture of a standard soda can for comparison with the largest version.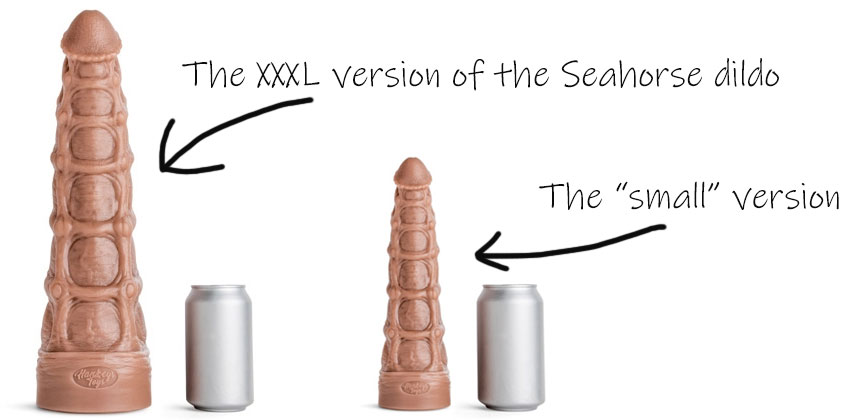 I would not be even close to managing anything like that and that's the case for 99% of all users.
Smaller Seahorse dildos
There are however 4 smaller versions which to be fair are all quite large, but they are more manageable.
The smallest one is "just" 10-inches (25cm.) long with an insertable length of 8.75-inches (22 cm.) so that should give you an idea of the 4 other models.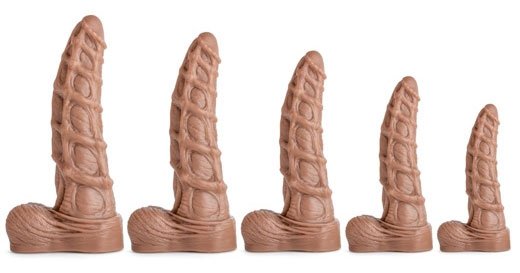 How does it feel?
The special raised grid that surrounds the shaft of the Seahorse dildo is truly special. The fact that it's so girthy to begin with makes the grid texture much more notable. You can feel every single detail when it goes deeper and deeper inside you.
The base of the dildo is massive and perfect for putting on the floor and using it to sit on. The size makes it either a sit on dildo or a job for 2, it's simply too big to hold in one hand and use as a "normal dildo".
You can buy the Seahorse dildo with a Vac-U-Lock attachment hole if you wish to use it in a fucking machine or with some of the other Vac-U-Lock accessories.
What Seahorse dildo model should I get?
All of Mr. Hankey's Toys are handmade, which allows them to offer custom orders. There are 4 ways you can make it suit your style and preferences and that's:
Size – The options are small ($135), medium ($158), large ($180), XXL ($213), and XXXL ($245). Not cheap but you get the best quality handmade dildo hands down!
Attachment hole – A Vac-U-Lock hole will set you back $5
Firmness – You can select between soft and medium firmness, the soft one is really hard to get in since it gets squished together and bends all the time, the medium firm one is the recommended.
Colors – There are 4 colors to choose from (The same place as you choose firmness), all the colors look super cool. There are no added costs to the firmness and color options.
What you should choose it entirely up to your experience level, but the vast majority should pick the small Seahorse dildo in medium firmness.
*The link above is directly to the Mr. Hankey's Toys homepage, just click the "Fantasy dildos" and find the Seahorse dildo.
Are there any great alternatives?
You're left with the smallest selection possible, with only one product in existence. There are however a few great alternatives that has a huge size and animal/sci-fi shape.
Let's take a look at some seahorse dildo alternatives:
Horse dildos – Just jump out of the water and remove the sea, it's as easy as that. The selection of horse dildos is a lot bigger and you can choose a variant that suits your style a lot better. Horse dildos are known for their size and size should not be a problem if that your main focus. You can find a nice selection of great horse dildos here.
Walrus dildos – Alright back in the water we go – Walruses are freaking huge animals with huge cocks and there are a few rather large walrus dildos that might suit your sea themed sex toy fetish. It's not the biggest selection either, but you can at least find some cheaper options. Check out our guide to walrus dildos if you wish to keep is ocean themed.
Tentacle dildos – Tentacle dildos are super weird to look at, but it all make sense once you get it in and all the small suction cups starts to work your inside walls. It's another great alternative to the seahorse dildo.
Remember this is not for everyone
You might have seen some of the videos where people compete with each other to get a seahorse dildo as deep inside as possible, but remember, that's not the average user.
It might look sexy in its own way, but it takes a lot of training to be able to handle something like the Seahorse XXXL.
If you're in doubt, then go for the small version which is still pretty big compared to "normal" dildos.
Lube, lube, and more lube
The seahorse dildo is made with the finest quality platinum cured silicone and a thick water-based lube works perfect with it. It can and will properly get messy due to the sheer amount of lube required.
Please don't use a silicone-based lube, that can ruin the surface and it's not a cheap dildo by any means.
Clean it properly
Dildos are very easy to clean, but the seahorse dildo's texture and grid design makes it a bit more challenging. Body fluids and lube can get stuck behind the raised grid that covers the entire dildo shaft.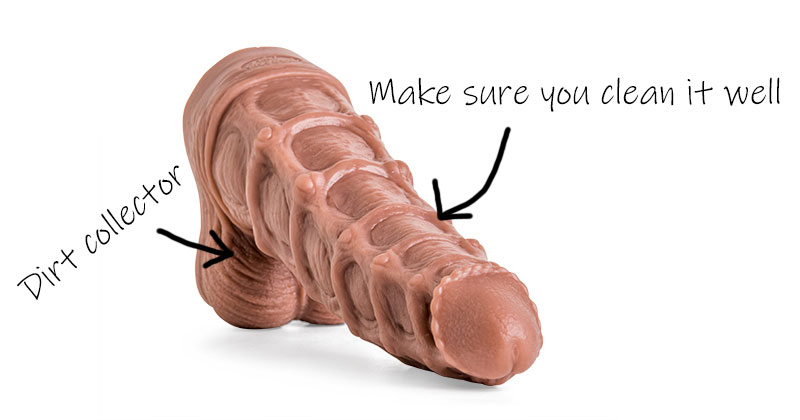 Give it a good wash in soap water and use some kind of soft brush to get in all the small cracks. Remember the Vac-U-Lock hole, if you bought one with that feature, it's a dirt magnet and often overlooked.
My final thought about the Seahorse dildo
The seahorse dildo from Mr. Hankey's Toys is a true work of art, the raised grid on the shaft makes it a unique experience to use.
Make sure that you take a good look at the sizes of the different models, since they are freaking huge.
If you're ready to challenge yourself size wise then you've come to the right place. People come back for bigger and bigger models as they progress, it's simple an amazing dildo.
You can find all the specifications on mrhankeystoys.com and find the perfect size for you.
I recommend the Seahorse dildo from Mr. Hankey's Toys if you're into sea monsters and wish to expand your horizon and holes.
*The link above is directly to the Mr. Hankey's Toys homepage, just click the "Fantasy dildos" and find the Seahorse dildo.