Doc Johnson dildo guide 2021
Doc Johnson makes a wide range of dildos in all shapes and sizes, but which one fits your need the best?
I've created this guide to help you find the best one for your budget and preferences.
The list is based on personal experience and working in the sex toy industry for more than a decade.
The best Doc Johnson dildos 2021
#1 The Perfect D
Molded from a real erect penis and boasting an impressive 7 inches of insertable goodness, the Perfect D really is as "perfect" as they come.
With a fine pair of firm balls and a suction cup base, it's the perfect addition to your sex toy collection.
This is what you get:
The Perfect D is made from Doc Johnson's own real-feel Ultraskyn material and is absolutely perfect for your dildo needs. It's also perfectly designed to fit into a strap-on so you can please your lover just as much as you can please yourself.
Cons:
Though this dildo comes as a perfect and realistic option, it's a good point to note that if left out in the heat for too long, the plastic can melt. Naturally, this can lead to a pretty unattractive cock, and you'll want to keep it safely stored away and out of hotter areas.
The Perfect D conclusion
I must say, I absolutely love the feeling of this dildo. Using this product is the closest I've come to feel a real dick (besides obviously a real dick) and I can't believe how affordable it is for what it is!
I recommend the Perfect D if you want an average to large size dildo that looks and feels realistic.
#2 The Slim Silicone Dildo
Made from perfect and smooth blue silicone and mounted on a flat base, the Slim Silicone dildo really holds its own against some of the other competitors on this list.
It's also incredibly affordable too, which makes it a win-win in my book.
This is what you get:
The Slim Silicone dildo is curved to perfection, hitting just the right points upon penetration. You'll find that with its sturdy base, it's able to stay standing all night long – making it the perfect dildo for you whether you fancy anal adventures or sensual vaginal orgasms.
Cons:
This dildo unfortunately doesn't come with a suction cup, which makes it more difficult for solo play. It's also known as a slimer option, so if you prefer something with a bit of girth, this one might not hit the same spot.
Doc Johnson Slim conclusion
Well, I'm not one to shy away from a challenge, and the Slim Silicone dildo was the perfect entry point for me to explore some anal play.
I'd never tried it before, but I have to say the Slim Silicone dildo was brilliant and really helped me discover just how much fun anal can be.
#3 Realistic Ejaculating 5.5 Inch Dildo
The first squirter on the list, this dildo rates highly as a brilliant option for all those wanting to try something a little more exciting than the norm.
Once this bad boy is loaded up with lube, you can enjoy the veiny shaft of the cock while you wait for that perfect moment for it to burst – sending you into orgasmic overdrive.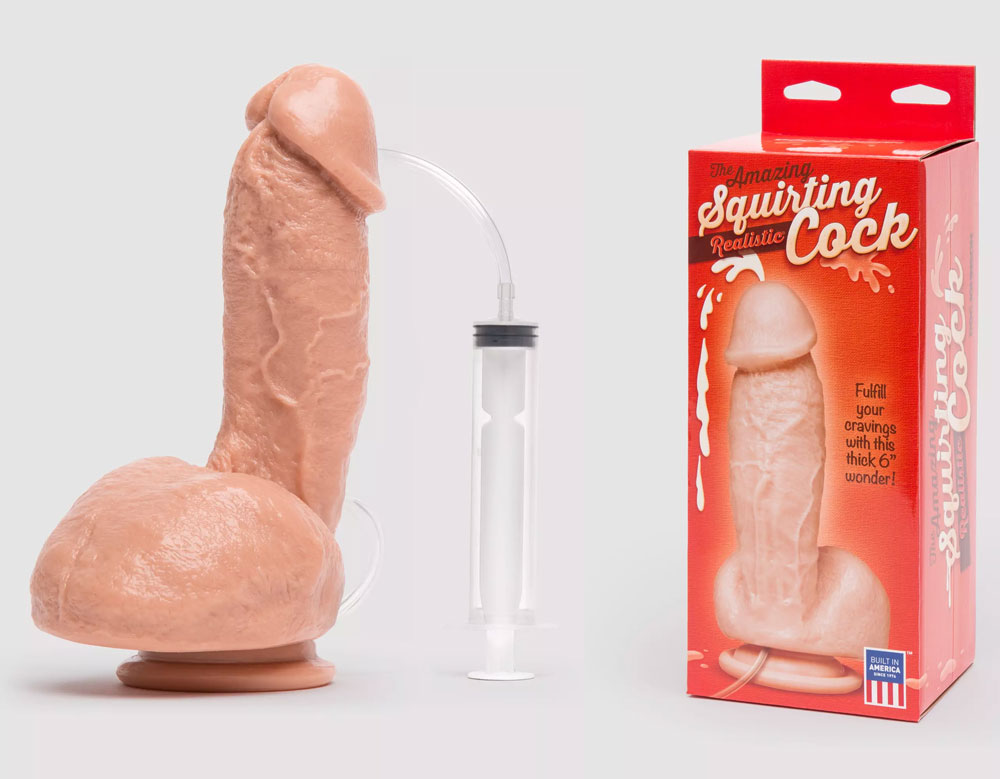 This is what you get:
This Realistic Ejaculating dildo is a great way to explore new avenues with your sex toy life. Fill it up with lube and you'll be able to enjoy its thick girth, waiting to erupt that lube out only when you're ready. It's perfect for both covering your body and being inside you, so whatever makes you tick – the Realistic Ejaculating dildo can do it for you.
Cons:
This dildo might be a little on the smaller side in length than what most people are after, but other than that, it's pretty spectacular. I've also heard a few people complain about the base not being wide enough, but I've yet to experience problems with its sturdiness.
Realistic Ejaculating 5.5 Inch Dildo conclusion
I honestly love the ejaculating part of this dildo. It's like nothing else I've ever experienced before and this cock very quickly came highly rated in my collection once I realized what just a little bit of lube-based ejaculate can do for me.
#4 John Holmes Realistic Dong
This John Holmes realistic dildo comes in at an impressive 12 inches in length and 2.5-inch girth.
It's a realistic mold of John Holmes' penis and is designed to look as lifelike as possible – like you're actually fucking John Holmes!
This is what you get:
If the 12 inches isn't enough of a selling point for you, it's good to note that you also get a strong suction cup to aid with solo use. It's also made from ultra-realistic UR3 material – which really drives home the point of it actually being John Holmes!
Cons:
The only real con I can think of with this dildo is that for some people it is just a little bit too big. It's definitely not a good choice for beginners to get into using a dildo, and even for some of the more experienced, it can be a little too overwhelming to fully commit to.
John Holmes Realistic Dong conclusion
I agree with my point above about it being slightly too big for me. I like my dildos to be a little more compact to really please me, and as much as I'd love to really experience sex with John Holmes, I think this dildo is just a little on the larger side for me.
Otherwise, I've had some pretty amazing times with it!
#5 Classic Black Double-Ended Dildo
This impressive 12-inch black dildo is the last of the list I'd like to present to you. It's a phenomenal purchase and well worth it for any budding dildo enjoyers, looking to have a bit of fun with their partner.
Double-ended dildos really add a bit of spice like none other and are great for all kinds of relationships looking to kick their sex lives up a notch.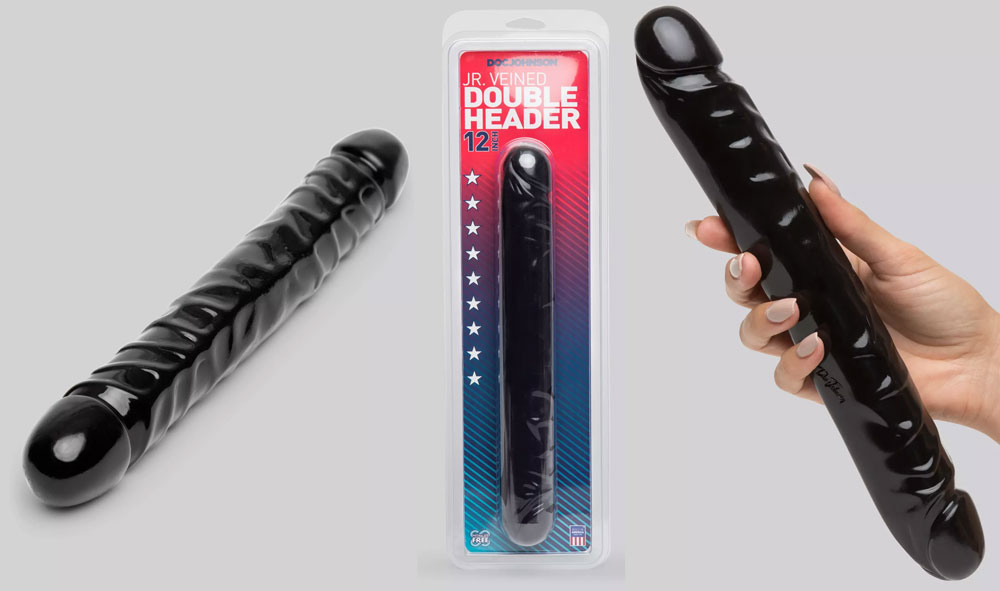 This is what you get:
You get the chance to share a full 6-inch half of this dildo with your partner and it's well worth it when you're both going at it together. Every thrust from you is another bit of glee for them, then they thrust right back and you feel the sensation over and over again. It's great! It's also built to be flexible, so even without a partner, you'd be able to bend it into shape and try out double penetration with both ends!
Cons:
I haven't noticed any cons at all with this dildo, other than the fact that it does smell quite strongly when it first arrives (you know that typical new toy smell). I've read that it can attract hairs a little more than you'd like to, but it's easy enough to clean.
Double-Ended Dildo conclusion
I think this Classic Black Double-Ended dildo is the perfect choice for any experimenting couples that want to try and introduce a dildo into play. Though it is a foot-long, I didn't find this one overwhelming, as the sharing really helped take the pressure off trying to take the whole thing!
What Is Doc Johnson?
Founded in 1976, Doc Johnson is an American sex toy company. It has grown to become one of the largest sex toy companies in the world and is based out of North Hollywood, California, where most of its production is carried out.
Some of its most successful and popular items include dildos and toys sculpted after some of the most famous pornstars out there – which encourages people to try them out to actually experience being with those sexy pornstars themselves.
Other types of sex toys they make
Doc Johnson doesn't just stop at dildos. There's so much on their market that they produce for all your experimental sex needs.
 Whether you've been practicing in the art of sex toys for years, or you're a new and budding enthusiast. Doc Johnson will have something for you.
From butt plugs to strap-ons, to belts and cages, Doc Johnson doesn't just limit themselves to the basic dildos.
Dildos make up the bulk of their business, but they have plenty of other toys available for those curious. I must say, some of their specific anal-based toys (like their butt plugs) really worked with me after a little bit of exploration.
My final thoughts about Doc Johnson dildos
Hopefully, I've helped to clear up any doubts you might have been having about Doc Johnson dildos. I can't recommend them more highly if I tried.
They truly are some of the best sex toys I've ever come across and they've really allowed me to expand my horizons and try out entirely new things.
All of the products I've listed above were tried and tested by me, and they've helped me to figure out things I didn't know I needed about myself.
Taking the Slim Silicone in my ass was one of the best experiences I had with this whole review, and I'd encourage anyone on the fence to take the plunge and try it for themselves too.
Also, don't be afraid if you find that one of these products doesn't work for you the same way it worked for me. We're all built differently after all, so it's a good idea to try it for yourself and develop your own opinions.
I hope that my opinion can guide you to make the right purchase, but don't worry yourself if you find that a dildo that I rated highly just doesn't work the same way for you! You'll find that special one!