The Ultimate guide to clear dildos
A clear dildo is a fun way to have a look inside when the action is happening.
You can find transparent dildos in different materials that each have their own advantages and disadvantages.
I've made a list of the best clear dildos based on my decade of experience working in the sex toy world.
The best clear dildos 2021
#1

 Ice Gem Realistic Suction Cup Dildo with Balls 7 Inch

My first choice is the Ice Gem suction cup dildo. Not only is it realistic, it also has a nice pair of balls, and 7 inches is a fantastic size that I truly enjoy.

The huge balls and veined shaft, all sitting on a sexy and strong suction cup. I wouldn't resist having such a clear dildo give me all the pleasure I need. I almost climaxed just by looking at it and thinking how good it's going to feel. The mere sight of it strongly excites me.

Sometimes it gets tiring when I'm stroking myself, but the base sticks perfectly to smooth surfaces. When I want to switch positions and ride that massive dildo, I can comfortably do it. No restrictions to my pleasure. Water-based lubricants work perfectly with this bad boy.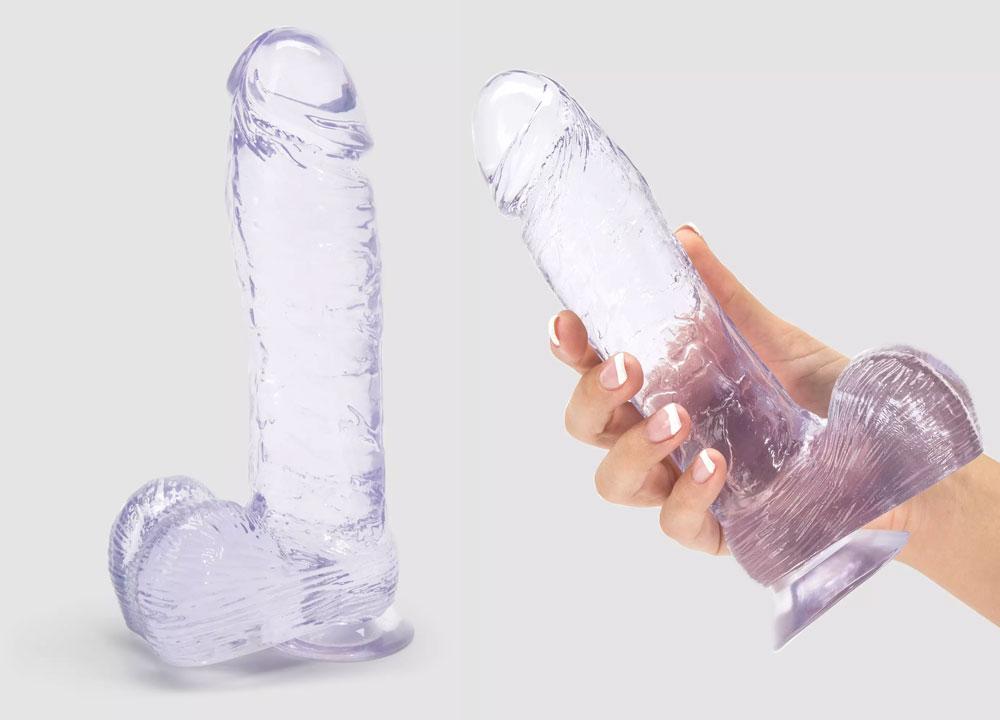 This is what you get:
The circumference of this king dong is 6 inches.
Appears realistic with 7 insertable inches.
Hands-free is much easier with the strong suction cup base.
Firm balls for teasing externally, can also be used as a handle when extra control is needed.
Allergens: Latex-free and phthalate-free
Cons:
It might not be pleasant for those that prefer a much smaller dildo.
Ice Gem Realistic dildo conclusion
I love the filled-up feeling, and this extra-long clear dildo greatly fulfills my fantasies. It's also made of a beautiful ice-blue clear color that's gender fluid; it's not limited to a particular gender.
It doesn't matter what you like, anyone can enjoy it. I think of the 7 inches and instantly know how much and how violently I will climax. It's made of everything that excites me, and even going inside me, it's built to for my eyes to feast on.
I recommend the Ice Gem Realistic dildo if you're after an average size clear dildo with suction sup.
#2 King Cock Clear 8″ Suction Cup Dildo with Balls
This is another king dong that I think is impressive when it comes to clear dildos. I love the fact that this lovely big boy feels exactly like the real thing.
The design makes it more appealing. It has a long sexy flexible shaft, bulging veins, and stunning ridges. Once again, I love it because I go for girth and size. If that's something you also like, then this 8-inch monster will make you happy. It gives a highly tantalizing stimulation.
The length is mainly the feature that really stands out. It's very generous and can deeply satisfy everyone's needs. Hands-free is an important factor, and it has a powerful suction cup base that can cling almost all types of flat surfaces.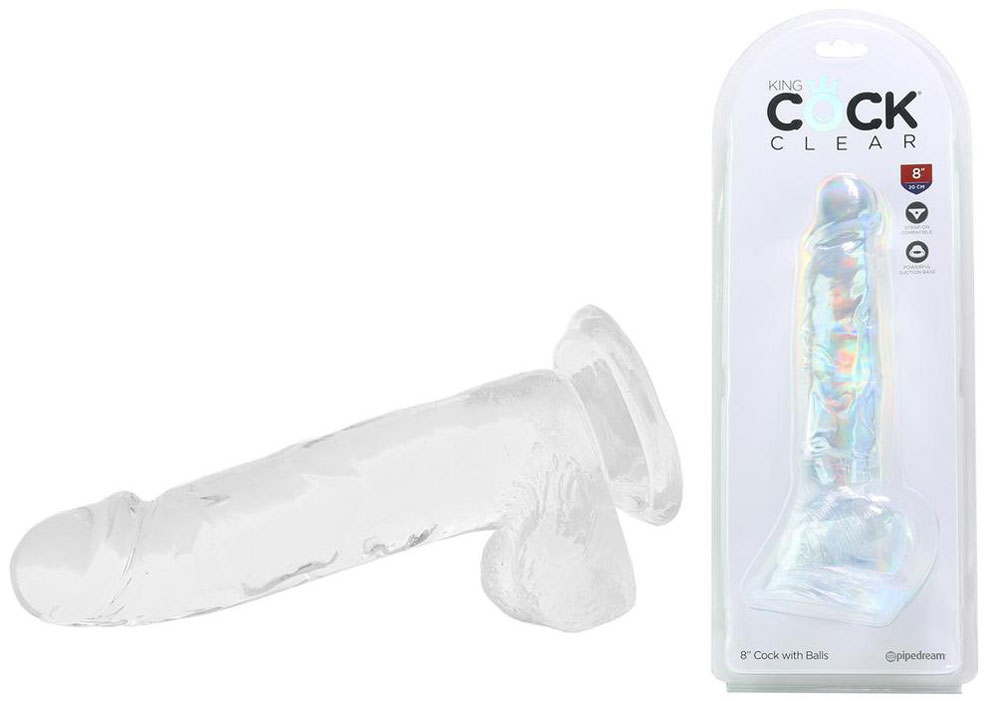 This is what you get:
Flexible shaft, sexy detailed veins, balls and a head, it feels amazingly realistic.
Huge and realistic to fill all my needs.
Compatible with a strap-on.
Non-sticky, odorless, and offers ease of cleaning.
Impressive hands-free experience with a powerful suction cup.
Cons:
The size can be a bit uncomfortable for beginners
King cock 8-inch clear dildo conclusion
A wild ride always takes me to different levels of pleasure.
After mounting it safely, you take the reins and fully enjoy a wild ride.
It's easy to clean, and I love that. Hygiene is an important aspect I consider when thinking of using a sex toy.
I recommend the King cock 8-inch if you want a large clear dildo.
#3 Ding Dong 5 Inch Dildo
As much as I love being filled up, going for a modest size is also an excellent way to find pleasure.
The 5 inches is a feasible size that can work perfectly for anyone who's a beginner. I know it takes a little bit of time before you can comfortably transition to bigger sizes when it comes to clear dildos.
This is what you get:
It has a soft, cleared-colored jelly material.
Curvy and very realistic.
Perfect size for petite users and beginners.
Veined texture and ball details.
Curved shape for G-spot stimulation.
Cons:
The size is a little small for those who prefer much bigger clear dildos.
Ding Dong conclusion
It gets the job well done when used on both the vagina and anus. One thing that stood out for me and with this particular dildo is the design.
It has a gentle curve, with defined veins, and a flexible shaft that feels exactly like the real thing. The flexible shaft offers tremendous G-spot stimulation to give crazy orgasms.
I recommend the Ding Dong if you want a small clear dildo.
#4 Brutus Glass Dildo Thruster
Not only do I love what this glass dildo does, but I also love how elegant it looks with the borosilicate glass.
The fact that I can just shove this glass dildo into my sex hole and still enjoy it with my partner is mind-blowing.
It has an amazing groove handle that makes it easy for me to get a secure grip and easily thrust to my desired speed and depth.
The appealing realistic shape comes with complementary protruding ridges that give a fulfilling and unique internal massage. It's made of shatter-resistant glass, the clear dildo is rock-solid and modestly heavy to give that wondrous sense of fullness.
This is what you get:
Total length is 11.5 inches, 6.5 insertable inches, and 1.75 inches at the widest diameter.
Groove handle for a secure grip.
Realistic shape with protruding ridges that offer a superb internal massage.
Includes temperature play.
Cons:
It needs to be handled with considerable care because the glass can break when dropped on the floor.
Brutus Glass dildo conclusion
I was impressed with temperature play. It's designed to be submerged in hot or cold water before use.
The hypoallergenic material is also non-porous, this makes it easy to thoroughly sterilize them with just soap and warm water.
Also, it can be used with all types of lubricants, I find that very convenient.
I've got a comprehensive guide to glass dildos that you should take a look at if you want more glass options.
I recommend the Brutus Glass dildo Thruster if you're after a large clear glass dildo.
#5 Ice Gem Realistic Double-Ended Dildo 16 Inch
Talk about double pleasure! I can't get enough of this twin-ended clear dildo that goes all the way inside.
The thought of me having all 16 inches to myself just drives me wild. It enables extreme pleasure through super-deep insertion.
It's a fantastic option for couples who love double pleasure. It's long enough to share with your partner, as you both get to enjoy 8 inches each.
This is what you get:
Double-end clear dildo.
Flexibility for comfort during use.
Enjoyable for both anal and vaginal play.
Head is realistically pronounced and textured shaft.
Cons:
The grip can easily slip out sometimes.
Ice Gem conclusion
The stimulation is astounding through the texturing the dildo has plus the enormous ridged head. Of course, my favorite feature is the clear coloration to make it gender-neutral, and an enjoyable view I can see through.
It's also flexible, therefore when being shared, it's very comfortable and can move with the bodies in play. The super-long shaft doesn't get stiff, and therefore it's easy to control even when both ends are occupied.
You're welcome to read my full guide to double dildos if you want to know more about them.
I recommend the Ice Gem Double-ended dildo if you want a clear double fun dildo.
Different ways to use a clear dildo
There are endless ways to enjoy a clear dildo depending on what every individual enjoys.
I'm very open to trying different positions with my clear dildo, especially the ones that have a strong suction cup.
It's possible to use them for clitoral stimulation.
Double-end ones can be excellent, especially when lesbians are enjoying double penetration. If one enjoys riding, they can do it, as well as partake in some anal sex if they happen to be in the mood.
It's up to everyone to with what excites them in terms of size and how to use it.
Cleaning tips
I easily clean my clear dildos with mild soap and warm water, a damp, or soapy washcloth. Since most of them are made of glass, I keep them away from extreme temperatures.
My final thoughts
I love clear dildos, they come in various shapes and sizes. As a versatile person, I can enjoy some that are reasonable in terms of size, and some that are enormous when I need an extreme filling.
They're appealing to the eye, which is something I love, and I immensely appreciate the highly intense orgasms too. Clear dildos are everything to me.
Are you interested in more information about dildoes in general then head over to my best dildo guide here.