The best anal Fleshlights tested and reviewed 2021
Anal Fleshlights are a great way to enjoy your favorite pornstars ass and up your masturbation game.
At Kinkycow we have tested and reviewed over 30 different Fleshlight butts and continue to whenever there is a new Fleshlight ass released.
This is how we judge the anal Fleshlights
Selecting the best Fleshlight butt for you comes down to your personal preferences of how a good asshole should feel like.
There are however a few things that most men are looking for and that's:
How tight is the Fleshlight butt? – Most men prefer a tight ass which is one of our criteria for a good anal Fleshlight.
The texture should be interesting – Using an anal Fleshlight should feel amazing and interesting so you would want more and more. This is done with a good texture with good variation in tightness and texture.
A tight entrance – Very few men want to put their penis in a wide asshole that feels used and old.
Okay, enough talk let's get to the list of the best anal Fleshlights
Best anal Fleshlights 2021
1# Mia Malkova Boss Level – Super tight, simple and amazing!
The Mia Malkova's anal Fleshlight sleeve is called "Boss Level" which is a very appropriate name since it's an absolute top-level design!
Its design is very simple and elegant, yet tight and amazing feeling. The inside texture is very simple as pretty much the same all the way through which would normally make for a quite boring design.
This is not the case with the Boss Level since the channel is not straight which makes the feeling very different the further you go in.
This is what you get:
Enjoy Ana Malkova's asshole
A tight anal experience
Super interesting sleeve texture and design
Easy to clean
High-quality material
The bad part:
Very tight if your penis has a lot of girth
I've done a full test and review of both Mia Malkova's Fleshlights that you can read.
I recommend the Boss Level anal sleeve to all men who want the best tight anal Fleshlight sleeve.
2# Megan Rain Thunder – Medium tightness and a lot of interesting textures
Megan Rain is the latest pornstar to join Fleshlight and her "Thunder" anal sleeve jumps right into the second spot of the best butt Fleshlights.
The texture of this beauty is one hell of a ride with a lot in super cool textures that makes it very interesting to use. It's not the tightest Fleshlight anal sleeve but this makes the texture standout even more since it's not squeezed together like some of the other.
This is what you get:
Enjoy Megan Rains beautiful ass
A medium tight sleeve that fit almost all men
Very interesting textures that make you want more and more
High-quality material and design
The bad part:
I've tested both Mega Rains Thunder and Lightning sleeves and written a full Megan Rain Fleshlight review here.
The Thunder sleeve is the perfect anal sleeve if you're after an anal sleeve that's not super tight.
3# Kimmy Granger Mischief – Soft texture that twist you in for more
Kimmy Grangers anal sleeve is called "Mischief" which is the perfect name for her anal sleeve since it fits her personality.
The design of "Mischief" is very interesting since it uses the same twisting texture all the way through but at various heights. This makes it super unique and a pleasure to use.
The overall tightness is good and there are room for bigger guys who don't fit in the tightest anal sleeves.
This is what you get:
Enjoy Kimmy Grangers hot ass
A tight anal sleeve with a soft nice texture
High-quality material and design
The bad part:
A slight curve would have been nice, but nothing major wrong with this sleeve
I enjoyed testing both Kimmy's sleeves earlier this year and I've written a Kimmy Granger Fleshlight review here if you wish to learn more about them.
The Mischief is a really good all-round anal sleeve that I really enjoyed. I'm sure you will too.
4# Ana Foxxx Velvet – Tight and simple pleasure
The Velvet sleeve is Ana Foxxx's butt version and it's very tight and it has a good inside texture but it's a little too simple for my taste.
The texture of the Velvet is one long bumpy ride and there is not much going on outside that. Some guys prefer that but most men would want a little curvy ride like the Mia Malkova Boss Level design or several different textures to make it more interesting.
This is what you get:
Enjoy Ana Foxxx's asshole
A super tight anal Fleshlight
The best black anal sleeve
High-quality materials
The bad part:
A little too simple, another texture and curve would have been good
I had the pleasure of testing Ana Foxxx's Fleshlights earlier this year and you can read the full Ana Foxxx Fleshlight review here or you can read my guide to black Fleshlights here.
The Velvet anal sleeve is the best black anal Fleshlight right now and a good choice if you're all about black beauties.
5# Abella Danger Zone – Perfect for guys with a big girthy penis
The Abella Danger anal sleeve is called "Zone" and that could very well be because of it's two zones that are divided by two narrow gabs in the design.
The anal sleeve is fairly wide compared to other anal sleeves on this list but it still has a lot of use cases and let's face it we're not all into tight holes and some men simply have a larger penis then us.
This is what you get:
Enjoy Abella Danger's asshole
A loose anal experience
Good starting training device for increasing your ability to last longer
High-quality material
The bad part:
The texture at 6 inch in has some holes in it that are really hard to clean.
It's not great for guys who wish for a tight anal experience
You can read my full Abella Danger Fleshlight review here and learn more about her pussy Fleshlight.
Abella Dangers Zone is perfect for guys with above average size penises or guys who fancy a wider looser sexual experience.
I know this is a very personal subject and it's hard to make a subjective evaluation of each product since they are all made by the same company and it's hard to distinct each anal Fleshlight from each other.
So here are some of my personal tips when you're going to select a Fleshlight.
My personal advice to you is
Select the pornstar that you find the sexiest and see if the tightness is right for you and then go with that option.
There is no reason to stress too much about getting the perfect one – they are all amazing in their own way.
Should you get an anal Fleshlight that you don't like then see what the texture and tightness is and buy another one that don't share the same features. I know they cost a bit of money but they are not that expensive and it's not the end of the world.
And remember to read many Fleshlight reviews so you get an idea of what each sleeve is all about.
Why do men often find anal sex better?
A lot of men fantasize about anal sex and most men prefer watching anal sex when masturbating.
This is why:
Anal sex is a much "purer" form of sex – Yes that's right, when I say pure, I don't mean it in a clean way or anything like that, but anal sex is purely sex it has nothing to do with reproduction which makes it purely sexual pleasure.
An asshole is tighter – Most men prefer a tight hole were ether it's an asshole or pussy. In most cases an ass is simply a lot tighter compared to a vagina.
But anal sex is not something that's very practical in reality and most women don't enjoy it.
A butt version of your favorite pornstar is a great way to enjoy the excitement of anal sex without destroying your sex-partners asshole. This is one of the reasons why the butt versions of Fleshlights sell really well.
Use it alone or with a partner
Most men use their Fleshlight alone and that's a really great way to step up your self-pleasure game, but why not use it with your sex-partner if you have one?
It's understandable that some women don't enjoy anal sex and that's okay and we have to respect that, but share your joy for anal sex with her and suggest that she use an anal Fleshlight on you.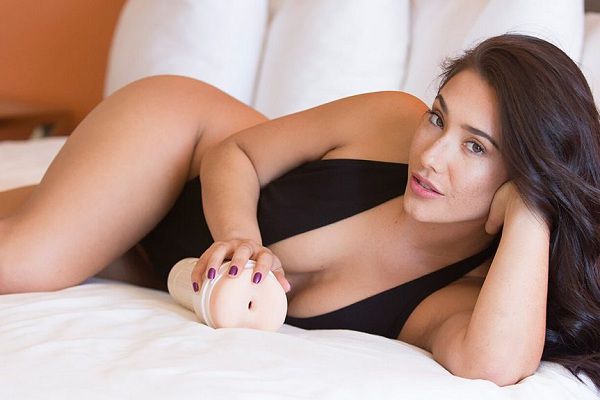 This is a really great way for you both since she and still pleasure you and you'll experience anal sex.
This is something that I can personally recommend, just be sure to talk to your sex-partner about it beforehand.
My tips for your first anal Fleshlight experience
Is it your first Fleshlight or are you an experienced Fleshlight user? You might both learn a bit here to take your anal Fleshlight masturbation to the next level.
These are my tips for a good Fleshlight butt experience:
Use anal lubrication – Using a butthole Fleshlight require a healthy amount of good-quality lube just like normal anal sex does. Make sure you have the right amount by added a little bit at a time until it feels good – reapply if needed.
Use warm lube – You should preheat your lubrication; this can be done by placing your lube-bottle in a sink with warm water or by giving it a few seconds in a microwave oven.
Heat up the anal sleeve – I hot ass is better than a cold one and it makes the whole experience a lot more pleasant. You can get a sleeve warmer at fleshlight.com that you simply put your anal sleeve over and turn it on. The warmer is powered by USB and it takes roughly 30 minutes to be ready.
Change the suction – You can change the suction power of your Fleshlight by turning the lid on the end. This will decrease or increase the suction and make it feel even more tight or looser. Give it a few turns during use and find a good suction for your preference.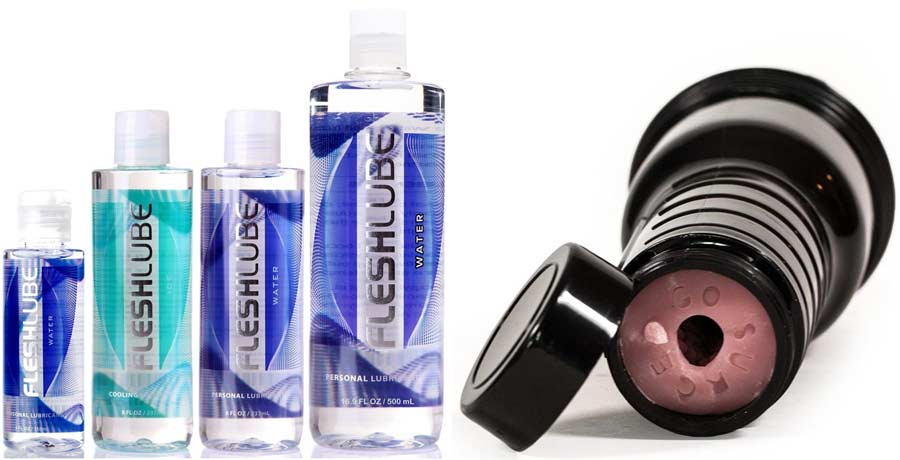 Do you have other tips or tricks?
Feel free to hit me up with an e-mail or a comment if you have any super Fleshlight tricks that you want to share with the world.
Clean your Fleshlight butt is super important
Cleaning your sex toys is very important and cleaning your Fleshlight booty is even more important compared to a lot of other sex toys. This is because of the tightness and the shape of the sleeve which makes it easy for lubrication and sperm to get stuck inside it.
Kinkycows anal Fleshlight clean guide
Clean your sleeve right after you're done with it. This will save you from a lot of trouble dealing with dried lubrication, sperm and other body fluids.
Use hot water to clean it but don't boil it. Hard plastic and silicone can be boiled but the super soft skin-like material that Fleshlight sleeves are mad of will break if boiled.
Use an anti-bacteria soap that doesn't contain alcohol since it can also break your anal Fleshlight sleeve. Fleshlight does have a really good cleaning package that you should consider when buying an anal Fleshlight.
Dry your anal sleeve well before going to the next step, this will avoid bacteria and mold growth. Simply dry the outside with a towel and place it with the entrance upside so any moisture can evaporate and get out.
Put on some renewing powder to keep it fresh and avoid stickiness. Again, Fleshlight does have a product for this or you can simply use a little bit of corn starch on the outside part of the sleeve. Don't over do this you can shake any excess power off when you're done and don't put any inside since it will clump up when you out lube on it next time, you're going to enjoy it.
Store it in a dry place and not in direct sunlight.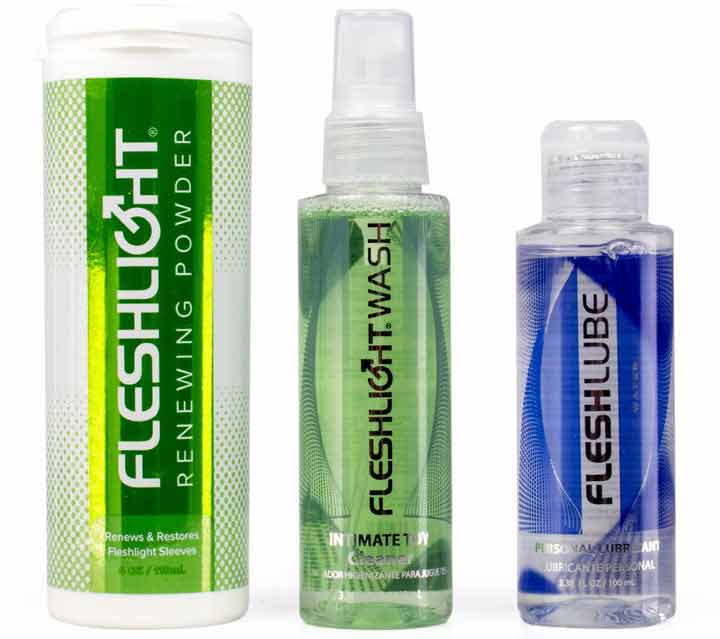 The best place to buy a good Fleshlight booty
You can buy almost all Fleshlight girls as a butt version except for a few models and the absolute best place to buy them is directly from fleshlight.com.
You get the best support and service when you order from fleshlight.com and you avoid the risk of getting a cheap counterfeit product.
There's a small button right under the model's name that you have to press to get the butt version of the Fleshlight when you order from fleshlight.com.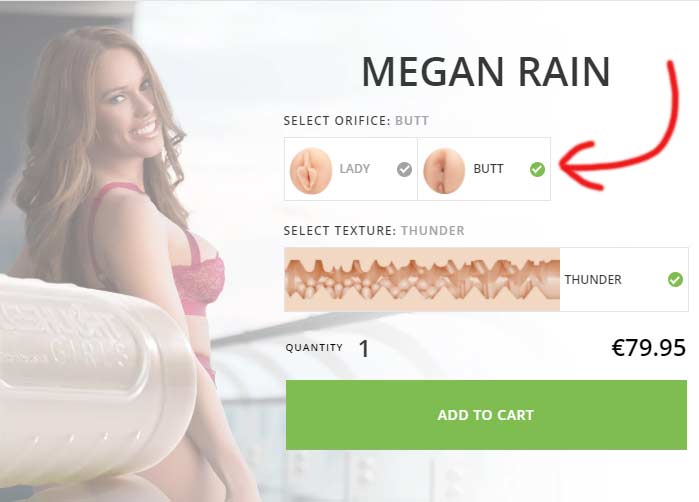 My final thoughts about the anal Fleshlights
Most men fantasize about anal sex but not all men will ever try it even though it's becoming more and more common.
A butt Fleshlight is a great way to experience anal sex and enjoy that sweet ass without having a sex-partner that will let you in her ass.
There are a lot of great butt Fleshlights available and most of them er really good, but ultimately it comes down to your personal preferences.
You can also find a clear Fleshlight anal version if you're into clear sex toys.
I personally love Mia Malkova and the butt version of her sleeve just happens to be perfect for me and that's why I recommend the Mia Malkova Boss Level anal Fleshlight.