The Ultimate Silicone Cock Ring Guide 2021
Cock rings made of silicone are super popular since silicone has all the right properties for a good cock ring.
But not all silicone penis rings are made equal and there are some products that you should avoid.
I've tried and tested 100's of different cock rings made of silicone in the last 10 years working with sex toys.
The list of the best silicone ring products below has a wide range of different products with different features in all price ranges, so there should be a product for you.
Let's see how I rate them before we go to the list of the best rated silicone cock rings.
This is how I rate the products
There are a few important features that all of the best cock rings made of silicone should have and they are what the products are being judged on:
Build quality
Material quality
Price
Other features
All the silicone rings below are really good and made of good quality materials.
The best silicone cock rings 2021
#1 Silicone Rechargeable Rockin Rabbit Enhancer
The Rockin Rabbit Enhancer is a good quality silicone cock ring with a lot of features for a fair price.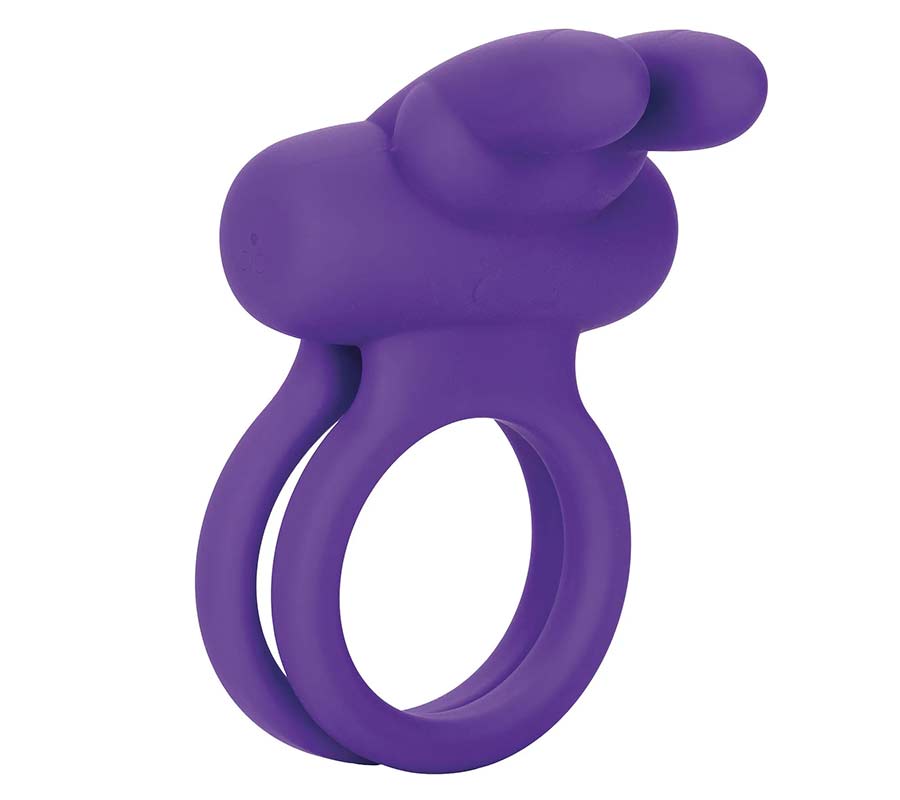 It has a lot of awesome features that can benefit both you and your sex-partner when you have sex. It's made of premium-quality purple silicone and it consist of two stretchy rings, one for your balls and one for your penis.
There is a rabbit-style vibrator on top that has a rechargeable battery and 7 different vibrating functions that you can play around with.
Simply plug it in with the included USB cable and charge it fully in just one hour.
This is what you get with the Rockin Rabbit Enhancer:
High-quality silicone cock and ball ring
Strong rechargeable vibrator
Cheap for the amount of features you get
I recommend the Rockin Rabbit Enhancer for all who want a good quality silicone cock ring with a lot of nice features for a good price.
#2 Play Zone Xact-Fit Rings
This is a super unique product that lets you play around with 9 different ring sizes to find the best match for you.
The rings are made by Perfect Fit in black silicone and range from 1.1 inch to 1.9 inch in diameter. All the rings are stretchy and you should be able to find the perfect size you're your penis shaft, your balls, and both of them.
You can play around with them in different configurations and use more at the same time if you wish to.
This is what you get with the Play Zone Xact-Fit Rings:
9 Different size silicone rings
Easy to use
Cheap for the number of rings you get
I recommend the Play Zone Xact-Fit Rings if you're a cock ring beginner and want to try some different sizes.
#3 Silicone Rechargeable Remote Pleasurizer
This is a black silicone cock ring with a huge powerful vibrator on top and guess what? It's remote controlled so your sex-partner can change the setting and adjust the power and rhythm while you're busy enjoying her holes.
It has 12 different vibration settings with various power and rhythm. The internal battery can last up to 80 minutes depending on the settings, and it's charged via USB in just 70 minutes.
It's also water-proof if you wish to have a go at it in the shower.
This is what you get with the Remote Pleasurizer:
High-quality silicone cock ring
Strong vibrator with lots of settings
Remote control
Easy to use
I recommend the Remote Pleasurizer if you're after a strong vibrator/cock ring combo with remote control.
#4 Performance Silicone Glo Penis Ring
This super stretchy silicone penis ring can glow in the dark which is pretty cool.
The Performance Silicone Glo ring is very simple and easy to use since the material is very stretchy. You can use it around your penis shaft, around your balls, and behind your penis and balls.
Why not go a little crazy and get a couple of them in different colors, one for your shaft and one for your balls is nice.
What you get with the Performance Silicone Glo penis ring:
Glowing silicone ring
Very easy to use
Super cheap
I recommend the Performance Silicone Glo cock ring if you wish to lighten up your penis a little.
#5 Adam & Eve Big Fat cock ring
The Big Fat cock ring from Adam & Eve is a very special product that hits an underserved marked.
This ring is very thick and it's a great way to reduce the length of your penis if your penis is too long. This might only be a problem for a few, but it's a well-known problem that women prefer an average penis size and a long penis can hurt.
Simply put the ring on your penis shaft over your balls and it will prevent your penis from penetrating that deep.
This is what you get with the Big Fat cock ring:
High-quality silicone ring
Very thick at .66 inch (1.7 cm.)
Very easy to use
Cheap
I recommend the Big Fat cock ring if your penis is too long and you want to reduce the penetration length.
How should I use a silicone penis ring?
This is very simple and easy to put on, simply stretch the ring with two or three fingers and put the ring over your penis, balls, or both and slowly let it stretch around your penis/balls.
It will prevent the blood in your penis from blowing back, this can increase the firmness of your penis when used and you might last a lot longer if you use one around your balls.
You can use a water-based lubrication with silicone toys, but please avoid using silicone-based lubrication since it can damage your sex toys.
Just remember that you should not wear it more than 30 minutes per session.
Keep it clean
It's super important that you keep your cock rings clean, silicone sex toys are easy to clean, but some of the cheaper products with vibrators might not be water-tight.
Just wash it with warm water and soap and let it dry completely before you store it away.
Final thoughts about cock rings made of silicone
Silicone is by far the most popular material for cock rings since it has all the right properties and it's fairly cheap to make.
I've made an overall guide to cock rings that you can read here and learn a lot more about them.
A silicone penis ring is a great way to enter the world of sex toys and it can be used with almost all other sex toys.
I recommend the Rockin Rabbit Enhancer if you want a feature rich product to a good price.