Get the Best pussy pump for your money
Finding the best pussy pump for you is not that easy and there are many pitfalls you should avoid.
I've tested a wide range of pussy pumps in the last 10 years working in the sex toy industry and this is the list of my highest rated pussy pump.
But first, let's see how we rate pussy pumps on Kinkycow:
Product quality
Effectiveness
Features
Price and customer support
The Best pussy pumps 2021:
#1

Lovehoney Auto-Suction pussy pump

This is the electric pussy pump from Lovehoney's own brand of sex toys which is a winner in my book. It has all the power you need with a single push of a button.

All you have to do it charge it up once in a while with the included USB cable and enjoy the easy-to-use toy.

I love that they have made the suction cup clear which makes it easy to see what's going on, which is a big turn on for most.

The quality is really good and it's made from body safe materials. There are of course a few minor downsides, the air hose it not a none-kink hose which can be a little annoying.

You can read my full Lovehoney Auto-suction review if you want to know more about it.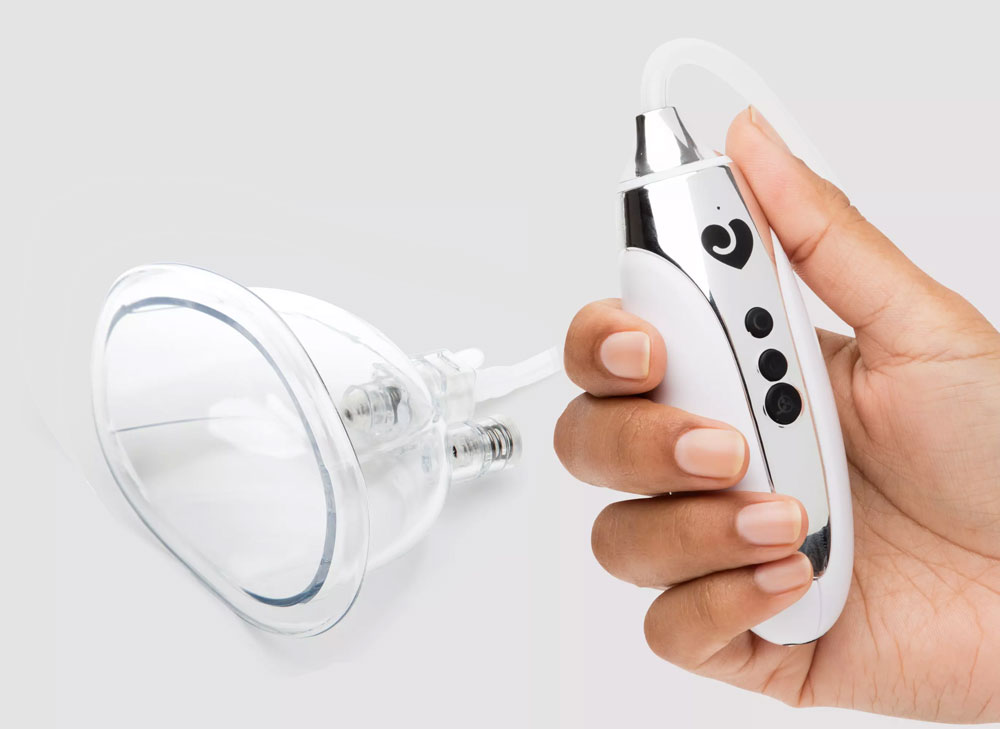 What I like:
Strong electric pussy pump
High-quality built and materials
Clear/transparent design
Rechargeable
What I don't like:
No vibration options
No none-kink hose
I recommend the Lovehoney Auto-Suction pussy pump if you want a high-quality electric pussy pump for a fair price.
#2 Doc Johnson pussy pump
Doc Johnson both have a manual and an electric pussy pump, it's the manual one that takes the second spot on this list of the best pussy pumps.
It's a very simple design that focus on function rather than features and esthetics, this also makes it a very affordable pussy pump.
It's also a great beginner pump where you don't have do deal with unnecessary features/wires/hoses.
You're still getting a lot of suction power so it does also work very well for more experienced users.
I have both the automatic and the manual pussy pumps from Doc Johnson a try earlier this year. You can read all about that in my Doc Johnson pussy pump review here.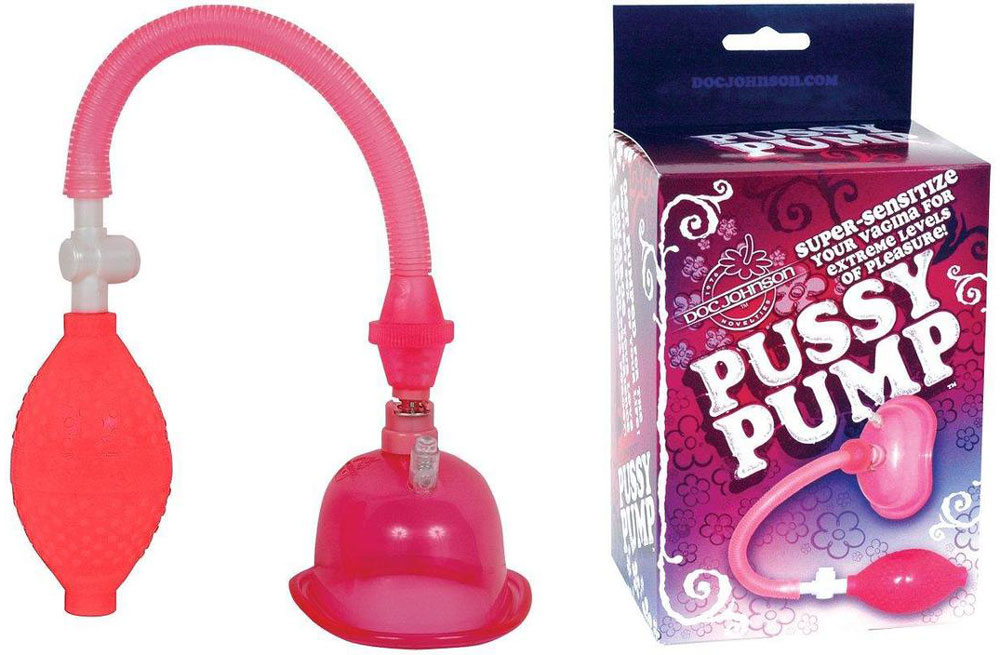 What I like:
Very effective
Simple design
Easy to use
Cheap
What I don't like:
No automatic feature
Not the best quality
I recommend the Doc Johnson manual pussy pump if you want a simple, cheap, yet powerful pussy pump.
#3 Her Ultimate Pleasure all-in-one sex toy
It's not strictly a pussy pump but rather a sex toy multi tool with a pussy pumping feature. I've put it in the third spot because it's an absolutely amazing toy with so many great features.
You can switch between 2 suction cup sizes depending on what you want to use it for – It's great for nipple, clit, and vagina pumping. There is also a licking feature inside the suction cup which can really take you pussy pumping to the next level.
It's very well built and the materials are really good compared to other pumps here, but the price is also really high.
There is a lot to lean about the Her Ultimate Pleasure toy and you can read much more in my Her Ultimate Pleasure review.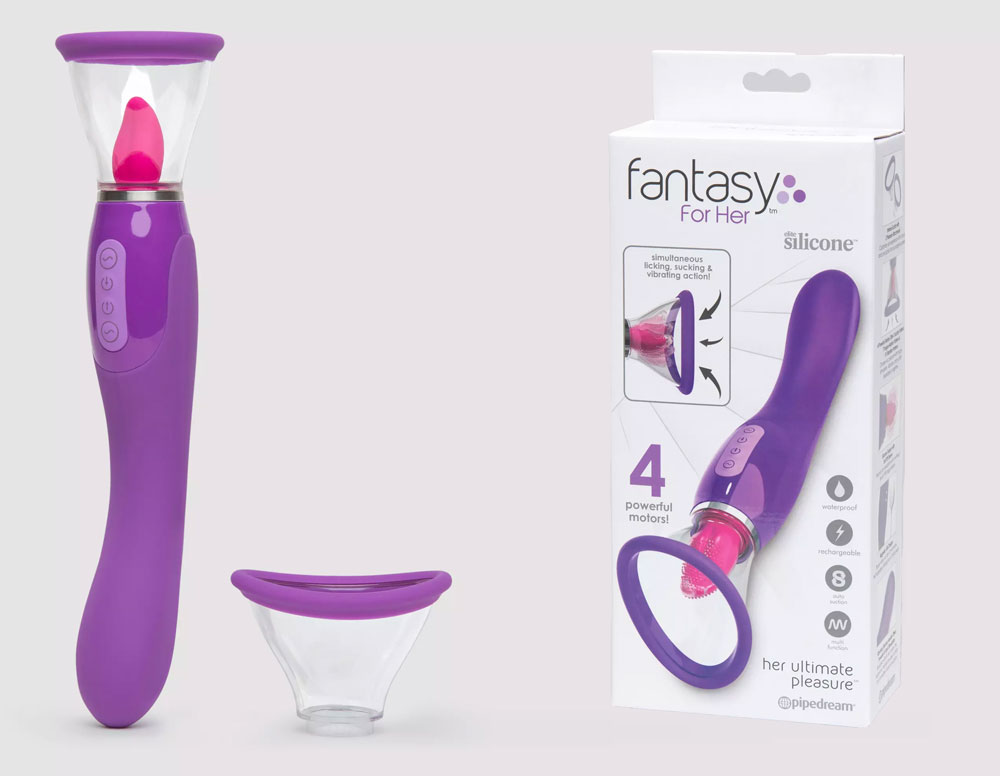 What I like:
High-quality electric pussy pump
Works for nipple and clit
Licking and vibrating feature
Including g-spot vibrator
Rechargeable and waterproof
What I don't like:
You need to hold it when using it
Expensive
I recommend the Her Ultimate Pleasure if you want an all-in-one sex toy with pussy pumping feature.
#4 Size Matters pussy pump
The Size Matters pussy pump is almost identical to the Doc Johnson manual pump, but it does miss a quick-release valve on the suction cup.
That's the main difference and that's all it takes to push it down to fourth place. To be clear, all the products on this list are really good (perhaps not no. 5 on the list) and they are very close to each other in terms of effect so it's minor details that push one pussy pump over the other.
It's very simple to use and the quality is decent for the low price that you pay for it.
You're also going to love it if you're new to pussy pumping and want to give it a try – Head over to my review of it for more information about the Size Matters pussy pump.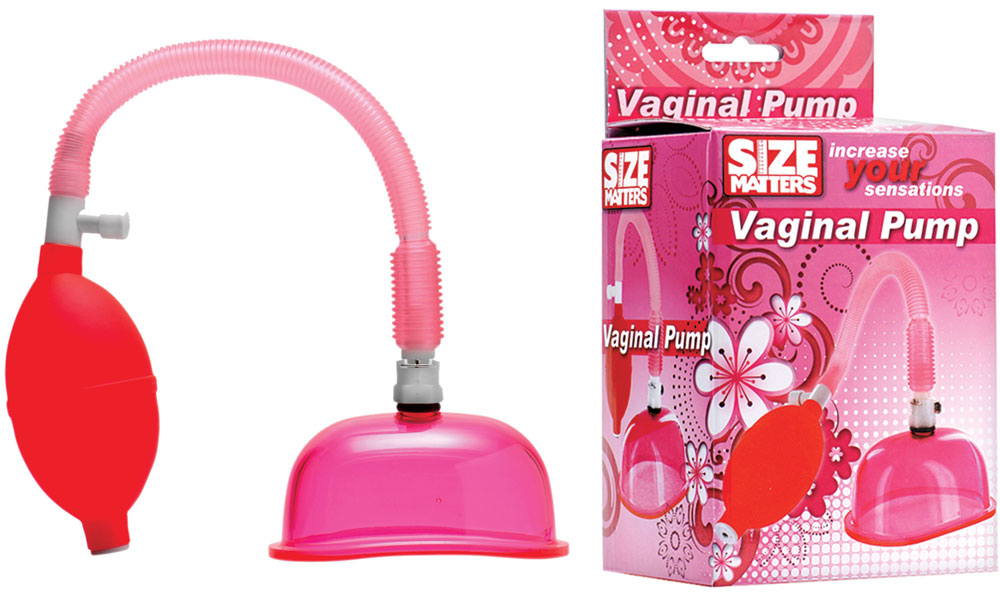 What I like:
Very effective
Simple design
Easy to use
Cheap
What I don't like:
No automatic feature
Not the best quality
No quick-release valve on the cup
I recommend the Size Matters pussy pump if you want a beginner friendly pump for a good price.
#5 Vibrating Butterfly pussy pump
This Vibrating Butterfly pump has a nubby underside of the suction cup that can vibrate your entire vagina and when you're done pumping, simply turn it around and finish off by using it on your clit.
The quality is very low and it's annoying with the extra wire sticking out, but that's what you have to deal with to get the features.
Why did I put it in the fifth spot if the quality is that low? It's simply so cheap that it would not be fair to judge it evenly compared to the other product that cost more than double.
I did try the Vibrating Butterfly pussy pump and that resulted in this butterfly pussy pump review.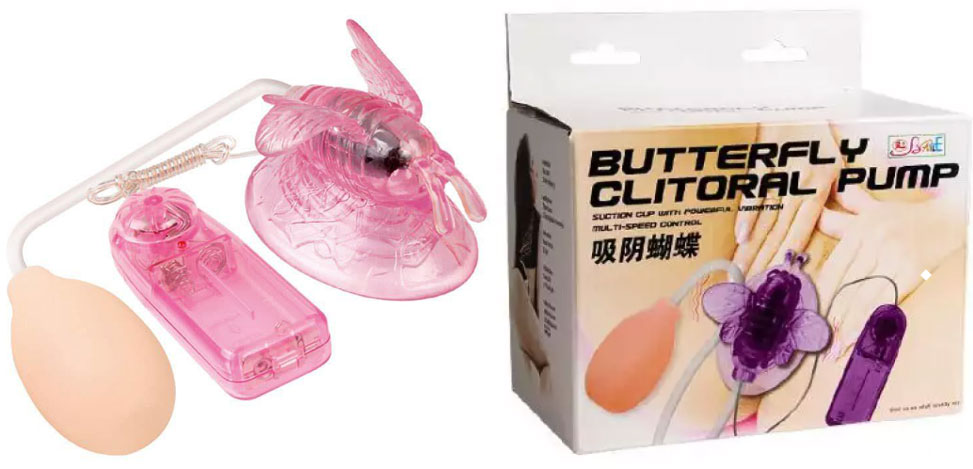 What I like:
Very low price
Vibrating feature
Turn it around and use on your clit
What I don't like:
The quality is quite low
Not waterproof
Not rechargeable
Weak pump
I recommend the Butterfly Clit Kisser if you want a super cheap vibrating pussy pump.
#6 Fetish Fantasy Pussy pump
This is called a "High intensity pussy pump" but that would be stretching it a bit too far to call it that. Okay it got some suction power but so does the entire top 4 on this list.
It's a bit expensive for the quality and features that you get and that's ultimately the reason it takes the last spot on list of the highest rated products.
But if you can find it on discount then it's a great alternative to the Doc Johnson and the Size Matters pumps. It has one slight advantage over those pumps and that's a clear suction cup.
You can read my full review of the Fetish Fantasy pussy pump here and get some more information about it.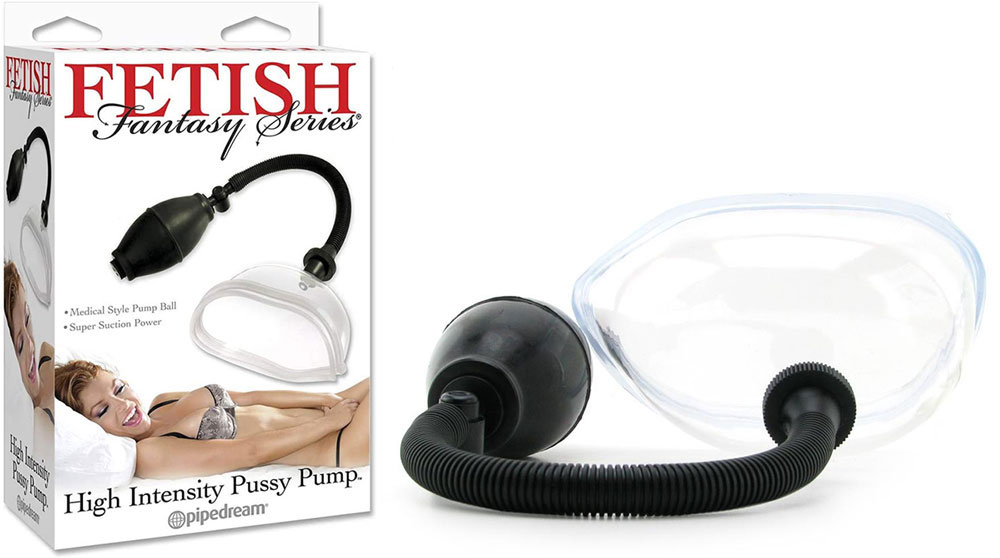 What I like:
Strong suction power
Clear suction cup
Easy to use
Decent quality
What I don't like:
Too expensive
No vibration
I recommend the Fetish Fantasy pussy pump if you wish a clear suction cup manual pussy pump.
Things to look out for when choosing the best pussy pump for you
There are a lot of different things you need to consider when searching for the perfect pussy pump for you and most of the times its personal choices.
This is what you need to consider:
Manual or Automatic – A manual pussy pump is best if you want to simple and very easy product to use. This is most of the times also a cheaper choice as there is no need for expensive electronic components. An automatic pump does offer some more features with the added cost of a higher price and things to worry about (batteries/recharging/wires).
Vibrating or not – Some pussy pumps can vibrate and it's something that you need to choose between. There is however the option of using small sex toys with your none-vibrating one.
Final thoughts about finding the best pussy pump for you
You was forced to choose between 2 pussy pumps a few years ago, but the market has changed the last few years. There are many great options now in a wide range of prices and with other features included that were not possible before.
If you're new to pussy pumping the you should head over to Kinkycow's pussy pump article that goes into great details about most aspects around pussy pumping.
Or check out all the different pussy pump reviews that I've done over the last couple of years.
A few recommendations:
Beginner – The best one for beginners is the manual Doc Johnson pussy pump that offers great performance for a low price. It's a great starter pump to get into it without committing too much money. You can get it Tootimid right here.
Experienced – Just to be clear, you don't need to be experienced to use it, it's just more money to spend on a product type that you might not like. You can get it at Lovehoney right here.
All-in-one – The Her Ultimate Pleasure is an amazing choice if you want a pussy pump, clit pump, nipple pump, licker, and g-spot sex toy in one device. It's expensive but the quality and features make up for it. You can get it at Lovehoney right here.
I hope you found a pussy pump for you and get the best one for your needs and budget. Feel free to get in contact with me if you have any questions or other pussy pumps that you thing should be on this list.