Pussy pumps – All you need to know before buying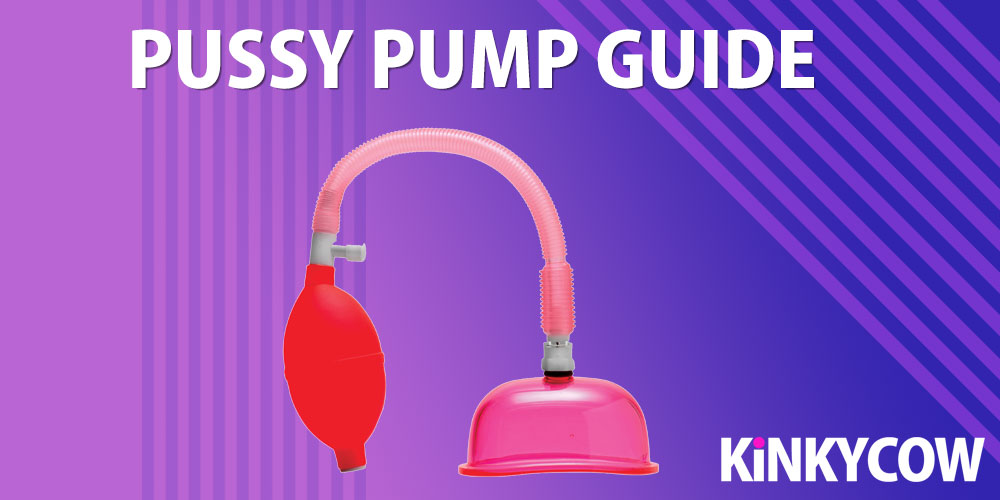 What is a pussy pump?
A pussy pump is a sex toy designed to make your pussy swell up and become larger. It's done with the power of vacuum which is created with some kind of a pump.
What are the advantages of a pumped pussy?
Using a pussy pump will make you pussy swollen, this happens because of an increased blood flow to the area under vacuum.
There are a few benefits to a pumped pussy:
Your vagina becomes more sensitive – It's way easier to achieve an orgasm when you're more sensitive and the orgasms can be a lot more powerful. This is true for both penetration and clit orgasms, so it's a great way to increase your change of getting an orgasm if you have difficulties getting them.
Your vagina feels tighter – This is due to the swelling around your orifice which simply makes it tighter. A tighter vagina often feels better for a male sex-partner and it will increase the change of him hitting your g-sport, and the same goes for sex toy use when pumped.
Major turn on – A pumped pussy is a major turn on for most guys and it's a very searched term on various adult tube sites. I would highly recommend getting a pussy pump with a clear transparent suction cup design like the Fetish Fantasy pussy pump or the Lovehoney auto-suction pussy pump. This will allow you and your sex-partner(s) to enjoy the action while it unfolds.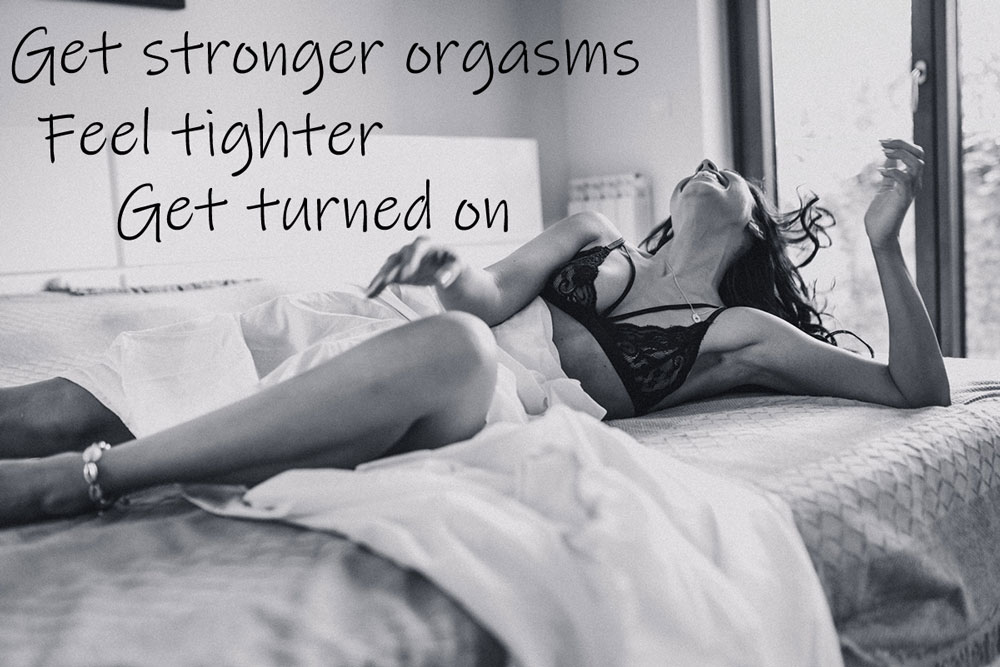 I love the benefits, but are the results here forever?
It the results permanent?
No, the increased sensitivity and swelling are not permanent and not something you would want to have permanently anyway. It can be uncomfortable to walk and be active while your pussy is pumped.
The swelling will slowly fade away after a few hours to a day depending on how much vacuum you had and for how long time you did it.
How do I use a pussy pump?
It's very simple to use a pussy pump and you'll quickly learn all the small tricks and techniques.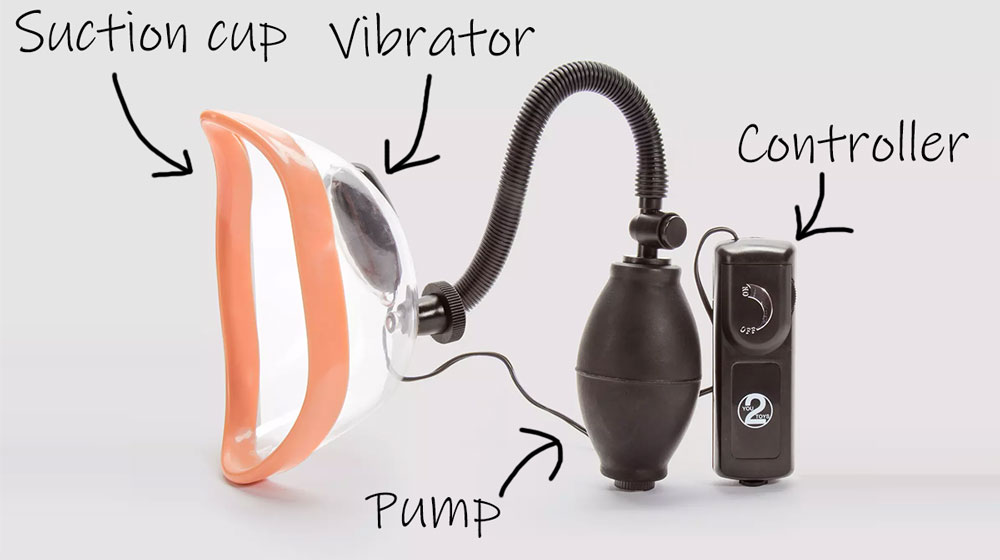 This is how you use it:
Take the suction cup part with one hand and press it gently towards your skin so it covers the area that you want enlarged.
Squeeze or press the pump depending on the style of pump with your other hand and add some vacuum to the suction cup. This should make the pump stick to your body, if it doesn't then read the section below for tips and tricks.
Slowly pump the air out and let the blood rush to your vagina area. It's a good idea to wait for 30 seconds to a minute between each pump. You'll quickly lean how your body reacts to the vacuum after a few pussy pumping sessions.
Now is the time to turn on the vibrations if your pussy pump has a vibrating feature.
Leave the pump on and let it sit for 5-20 minutes and let your vagina swell up. You can remove the air hose form some products without losing any suction but it's not necessary.
Press the "Quick release valve" once you're done or simple lift one side of the cup off your skin to let air in.
Enjoy your swollen vagina and all the sexual benefits that it brings with it.
If you're going to be using other sex toys during your pussy pumping session then start with that before putting on the suction cup. It's not advised for beginners since you're dealing with a lot of stuff at one time, but it's something that you can give a try later on once you're comfortable with using your pussy pump.
I'm having problems creating a tight seal around the base of the cup, and it keeps falling off – What do I do?
It keeps falling off – What do I need to do?
This is a well-known problem with all sex toys that rely on suction to stay on your body and especially ones that is designed to be used on areas with hair.
There are a few things you can do to improve the suction and create a better experience for you.  I've ordered the things according how little it takes to do it.
Try adding a bit of water or saliva to the edge of the suction cup where it touches your skin. This will fill up all the tiny gabs between your skin and the suction cup material. The viscosity of water and saliva makes it okay for tiny gabs, but the vacuum might suck it in especially if you have hair in the area and it will result in loose of vacuum.
Using a thick water-based lube will solve most of the issues since its viscosity is way lower than water. This is ideal to use if you have lots of hair or uneven skin.
Some people simply have too much or too thick pubic hair and the only way to use a pussy pump is to shave it off or trimming off some of the length. You could give trimming a try before you shave it completely off.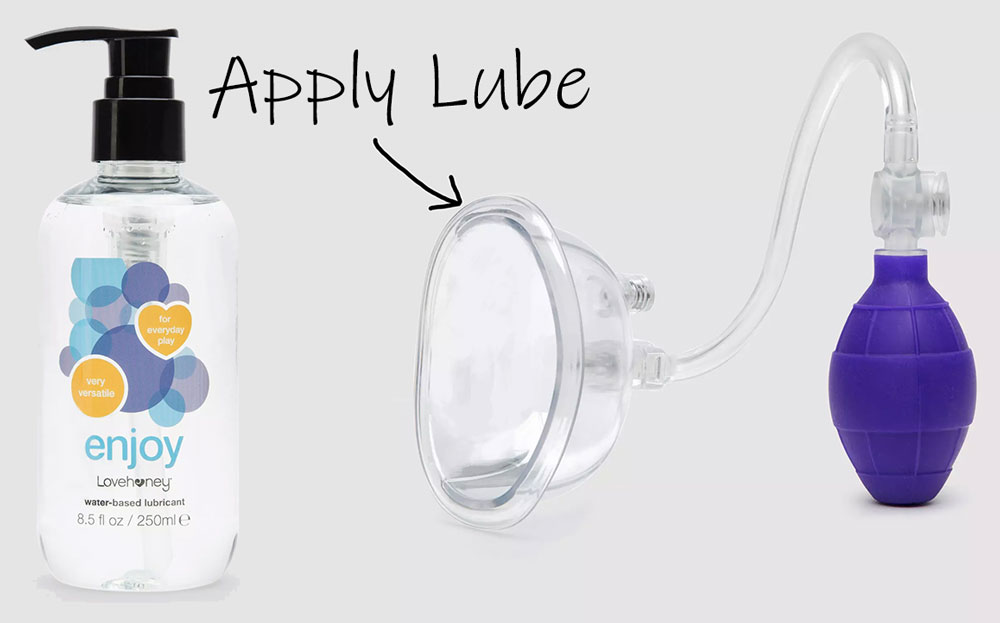 your pussy pump might have a defect?
There are several places on a pussy pump where a small defect can cause it to leak air and not being able to get suction.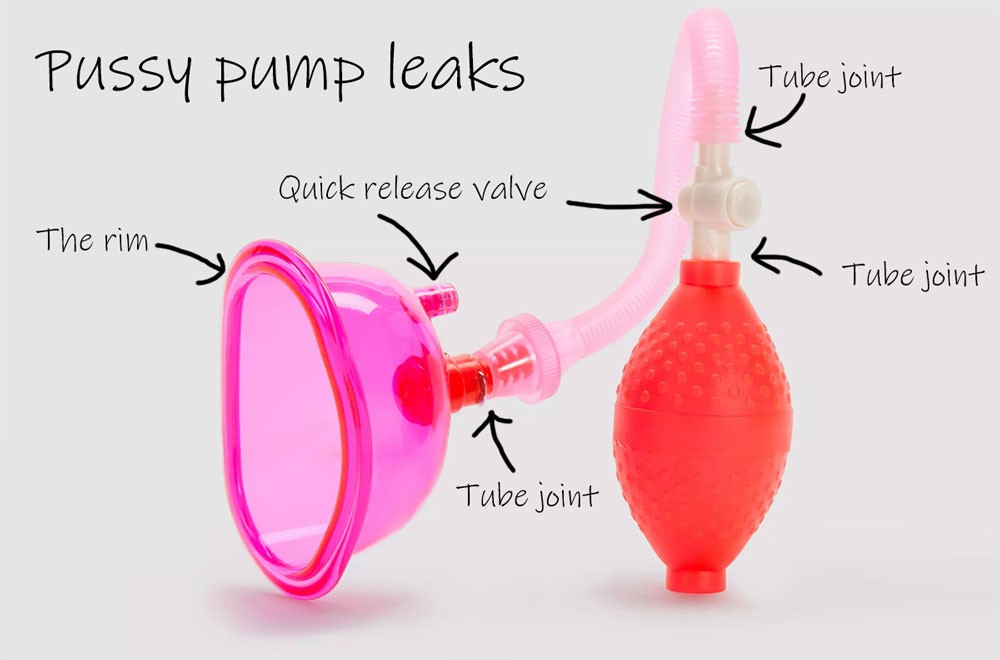 The problem with finding a leak in a product that's designed to hold air out is that you can't feel it with your hands since it leaks air in and not out.
You can try to use the pussy pump on a flat smooth surface and you might be able to find out where the leak is and maybe tighten the hose on the suction cup or whatever the problem might be.
You should be able to get a refund or another pussy pump if it's new or within the guarantee.
The best way to clean a pussy pump
It's always important that you clean your sex toys after each use and a pussy pump is no different.
You can separate the suction cup from the air hose on most models which makes cleaning a lot easier. Some pussy pumps have a soft rim that you can also take off, lube and body fluids might get stuck behind the rim of the suction cup.
Use warm water and a mild anti-bacteria soap to clean it, some pussy pumps can even be boiled, but make sure you read the manual and confirming that the product you have can do that.
Dry it off with a towel and leave it out for a few hours to dry completely before putting it away. It's very easy to see if you've missed a spot on the clear/transparent ones but not all are made like that.
Let's take a look at some fun ways to make your pussy pumping experience even better.
What sex toys do you recommend together with a pussy pump?
You are fairly limited in your selection of sex toys to use while you use your pussy pump, the biggest obstacle is size.
But there are a few options that works really well and that's:
Small vibrators – It would be ideal if you have a remote-controlled one but it's not a must. Clam style vibrators would be perfect since they don't take up much space outside and egg vibrators are also a great option.
Vibrating butt plugs – I know they are meant to be used in your butt, but be a little creative. Butt plugs will naturally slip out when you used it in your vagina, but the suction cup on your pussy pump will prevent that from happening.
Vibrating kegel balls – A good set of vibrating kegel balls can be used in the same way the other types.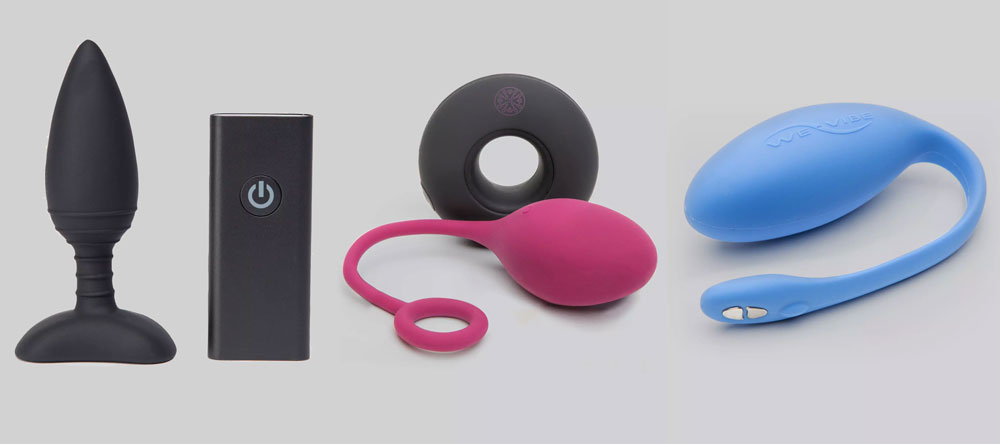 Remember that using sex toys while you wear a pussy pump is not the intended use case, but simply an option for the curious and adventures.
Let's take a look at the different types of pussy pumps.
Should I get an electric or manual pussy pump?
There are a few reasons why you would want an electric version of a pussy pump over a manual one and the other way around.
Let's take a look at some of the pros and cons of the different models so you can decide on the best pussy pump for you.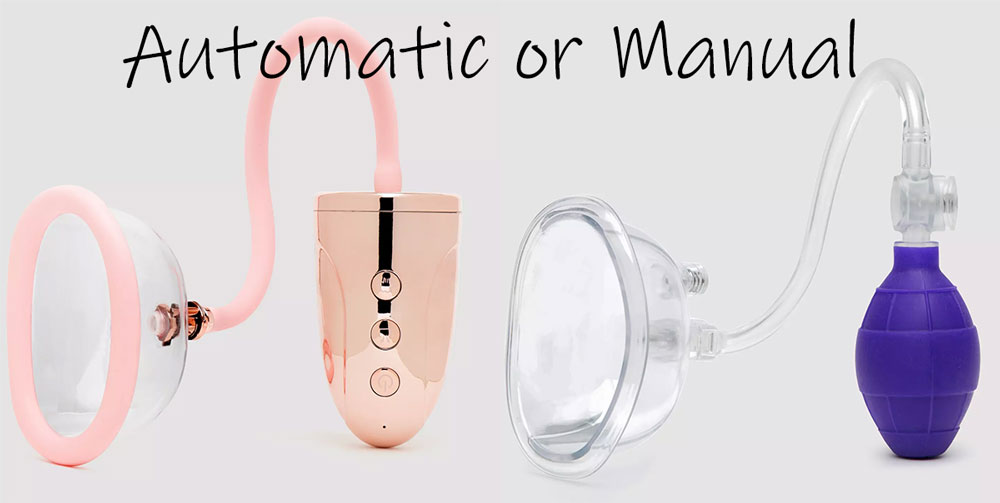 Manual pussy pumps:
Cheaper (often half the price)
No need to worry about recharging
It's easy to use
Very easy to clean
Strong enough vacuum for most users
Automatic pussy pumps:
Pump with a single press of a button
Some have vibrating features
Get stronger vacuum
Perfect for weak hands/arms
Manual pussy pumps:
Very few features
You need a little arm/hand strength
Automatic pussy pumps:
They are expensive
Some have extra wires hanging off
You need to recharge
Too strong suction for some users
So, which one you should get is entirely up to your budget and need for special features. The handball-pump (manual) does require some hand strength, so pick an electric one if you have problems with your hand strength.
Other features to look out for
The main add on feature that some pussy pumps have is a vibrating feature which can be classified in two different types.
The cup vibrator – This version has the vibrator attached on top of the cup, which vibrates the whole cup. You're going to feel a vibrating sensation throughout your vagina area. It makes it more pleasant to use, but it's not going to give you any exploding orgasms, but rather enhancing the pumping experience.
The inside vibrator – This sits inside the cup and is often shaped like a tongue or something similar. It focuses the vibration to your clit area and it's much more like a traditional sex toy which can give you an orgasm.
One downside of having a vibrator in your pussy pump is the added wire/batteries/controller which can be annoying to deal with. Sometimes the simple sex toys are just the best.
Can I use a penis pump as a pussy pump?
The selection of pussy pumps is quite small compared to the massive amount of penis pumps. They do fundamentally work completely the same way, so the question is very relevant.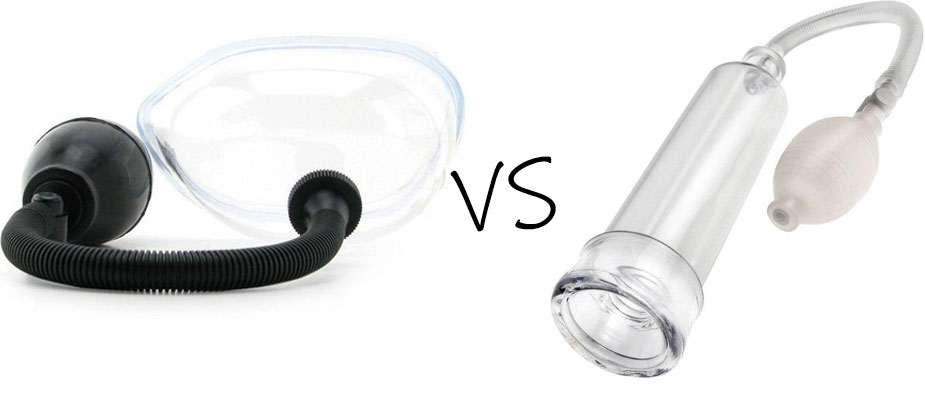 Yes, you can use a penis pump as a pussy pump but there are a few things that you need to keep in mind before spend your money on the nearest penis pump.
Why you shouldn't use a penis pump for your pussy:
The base of a penis pump is round which is not ideal for a vagina shape. You'll have to spread your legs completely in order to create enough of a flat area for it to really stick.
The vacuum chamber is way too long which requires you to hold it to prevent it from falling off. You can use it hands free if you pump really hard, but that's not something you should do.
Penis pumps are often way more expensive, especially the high-end ones.
But if your sex partner has one lying around and you wish to give it a go, then no problem. You can always invest in a real one designed for your pussy if you like it.
What about breast pumps?
Breast pumps are another option you can use instead of a pussy pump, and some products are a combination made for both.
The main problem with normal breast pumps is the same as the penis pumps and that's the shape of the suction cup itself. Make sure it's the right size for you if you go with this option.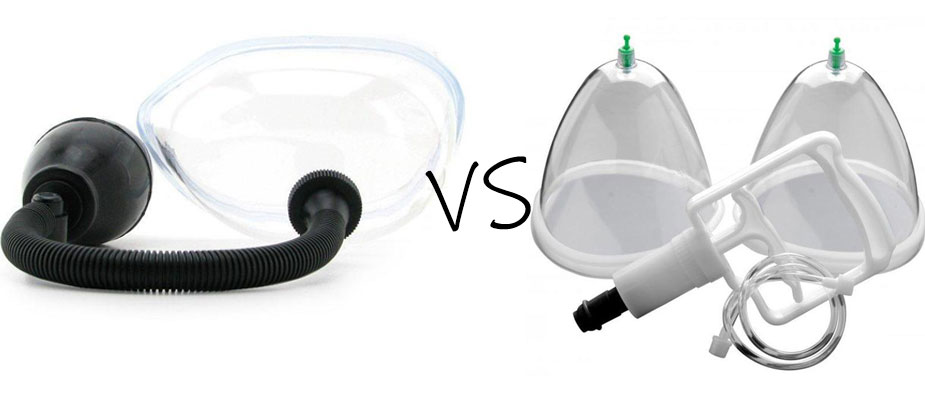 You can get special replacement suction cups that's made specifically for vaginas that will work with breast pumps and the other way around. Size Matters is a company that make such products, but make sure they work with your pump setup before you buy it.
Why is it made of plastic and not silicone?
Sex toy reviewers (me included) love and praise silicone sex toys, but why isn't it possible to buy a pure silicone pussy pump?
It all boils down to the stiffness of silicone which is perfect for most sex toys but very bad for holding its shape when put under pressure. It would simply be impossible to crease a pure silicone cup or tube that would be able to hold a vacuum without deflating.
It's the same thing with penis pumps and any other sex toy that need to hold its shape.
You can however get some that have a silicone rim on the cup, this ensures that your skin only touches the silicone part, but retain its ability to hold a vacuum.
Where can I find a place to buy pussy pumps?
Pussy pumps are sold in most sex toy stores both online and offline, so you can just go to your favorite place and get one.
There are a few online stores that I've been buying from for years without any problem and they all take your privacy very serious and offers great customer support.
Lovehoney – They have nice selection of both manual, automatic, and vibrating pussy pumps. Enjoy good customer service and discreet worldwide shipping.
ÜberKinky – Specializes in BDSM sex toys and they have some nice pussy pumps.
Tootimid – Another great sex toy store, their selection is quite small but their quality and service in top notch.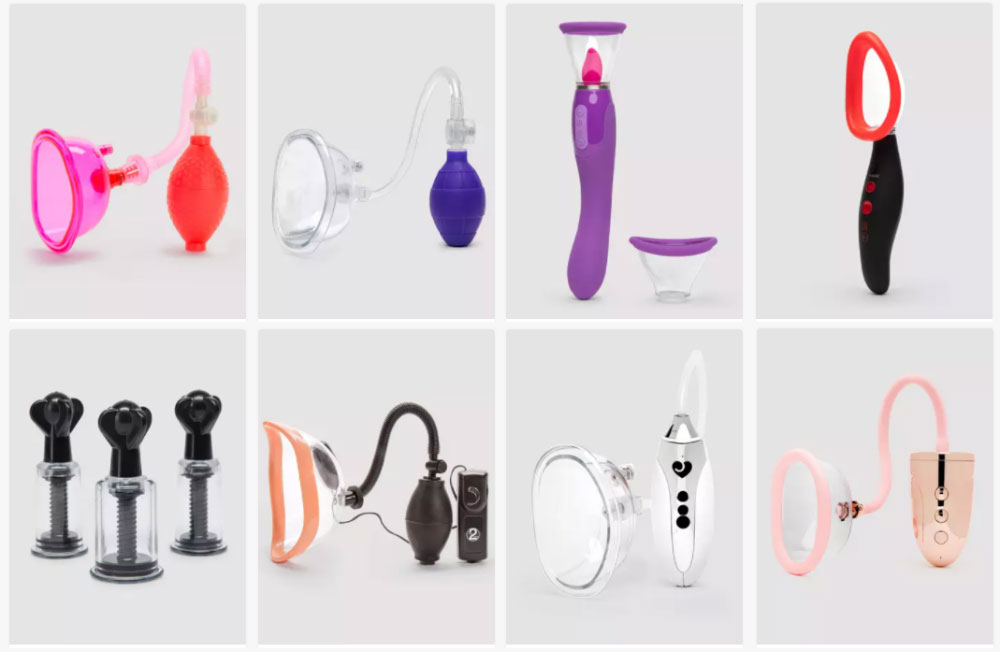 There are 100's of other great sex toy store where you'll be able to find a pussy pump, but these are the ones that I personally use and can recommend.
Finding the best one for me
It's always a good idea to read product reviews before jumping ahead and getting whatever's on discount at the place you buy. I've tested quite a large number of pussy pumps in the past 10 years and the most recent ones are published as reviews here on Kinkycow's pussy pump reviews.
I've also ranked them and made a list of the best pussy pumps; this list gets updated whenever I review new pussy pumps.
My final thoughts about pussy pumps
Pussy pumps have been in the shadow of penis pumps for a long time and it's a shame that's it's like that. Using one can dramatically improve your chances of getting an orgasm if you have trouble reaching climax.
And it can even improve your orgasms and make them much stronger and easier to achieve.
Let's all spread the word about pussy pumps and break down the social barriers that surrounds sex toys and everything sex related.
I really hope you learned a thing or two about pussy pumps and perhaps you've been intrigued enough to give it a try.
You're always welcome to send me a message if you have any questions about pussy pumps or sex toys in general.